Reception staff, have a million and one things to juggle, to ensure your practice runs smoothly and your patients always receive the best possible experience, care and service. Often your team at Reception are the face of your practice, welcoming patients as they arrive and caring for them as they depart, as well as taking care of all your patient admin.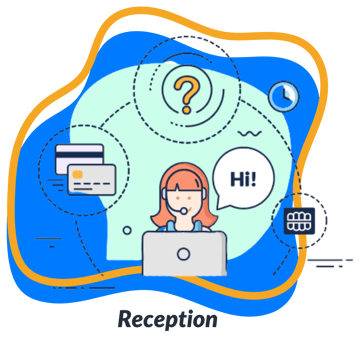 We can all appreciate as a patient, how frustrating it is when we struggle to get through on the phone lines due to high call volumes, We recently looked at some of the stats from our own phone software here at Dentally that highlights just how stretched reception teams often are.
Out of 23,000+ outbound calls that were made from Dentally to practices, only 43% of these calls were answered.
This statistic pulled from our own phone software at Dentally, really highlights how high the call volume can often be at a dental practice. We understand how frustrating this circumstance is, just getting off the phone to having it ringing again instantly or having never-ending voicemails to try and find time to call back.
When a patient struggles to get through on the phone lines their first port of call is going to be your website to check for an email address, a social account to interact with or an online booking service instead. This is a great way to be able to relieve that pressure on you at reception knowing that you can redirect that phone traffic to your website.
Emails received into Dentally from your existing patients will link directly to their account making it super easy to stay organised. And for new patients that book online, if you have this function, will be able to create their own patient records when filling out their details online.
When utilising the additional features available to you, you can rest assured that the 57% of patients whose calls were not answered are still successfully engaging with you elsewhere, online, through socials or even via email.
Dentally has many functions you can utilise to ensure an easier, simpler life. In this case, we can utilise our features to ensure you can retain patients as easy as possible. You'll see below just a couple of examples on how just using the reception tools in a different way may help you in the long run to retain patients and even attract new ones.
Automated Reminders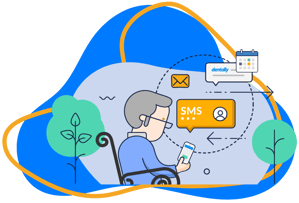 Our automated reminder system allows you to set up multiple communications out to your patients in the lead-up to their appointment. We recommend always ensuring there is a call to action on these messages to avoid patients becoming disgruntled at the reminders they receive. You could use phrases such as;
'Confirm your appointment by replying to us' or 'confirm your appointment by using the 'your appointments' tab on the patient portal, log in below.'
'Update your medical form before you arrive.' or 'check your details on the patient portal before your appointment.'
Any of these will give the patient a reason to engage with you at the practice without you having to call out to them individually. This means the reception team will instead be ready to answer any incoming calls instead of spending all their time out bounding to patients. You can set up automation from the settings in dentally and we have some support articles on how to do this here.
Innovative Tools
The innovative tools our development team has created for you will help you save time and thrive on the new simpler ways of working. Here are just a few of the tools that are there to make your life easier;
Being able to call out to patients directly from your browser means no copying and pasting or manually typing out numbers. This means no risk of human error and is a great time saver for when you do have to reach out to a patient.
The easy use of the clipboard function from the appointment book means rebooking or moving an appointment is effortless. All you need do is right click an appointment and choose 'move to clipboard.' You can then navigate to the date and time you wish to move this too and then simply drag and drop this from your clipboard straight back into the diary.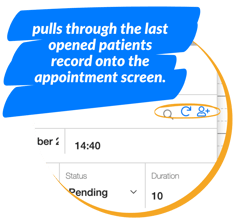 Our refresh patient button is sometimes overlooked however when creating a new appointment this can be super handy. It allows you to quickly pull through the details of the last patient you were viewing to book them straight into the diary.
The appointment toolbar at the top of Dentally allows you to easily change the view of your diary to suit your needs each day. Meaning if you have a unique way of working, then you can have your view of the diary set different to that of your colleagues. So you can all work in your preferred way.
Recall Automation
Lastly our recall automation is a big-time saver for a lot of our practices. It is one of the main focuses of our Elevate customer success program. Click here to find out more about Elevate.
Demand for patient appointments has been at an all-time high since the pandemic, this has meant that for a lot of practices their recalls have been left to suffer longer than we all would have liked. Having a large backlog of recall patients seems to be the norm for a lot of sites now.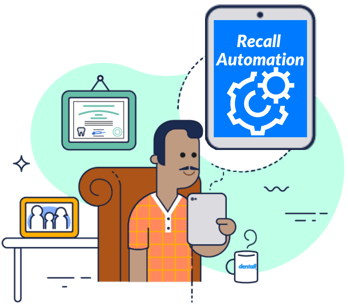 Transitioning out of the pandemic backlog is no simple fix and will be an ongoing challenge for some time, our automated recalls feature is going to allow for some great timesaving in the practice during this period. The recalls work in a similar way to reminders, in that you can customise the intervals in which these will be sent out to your patients.
This means without any interaction needed from you, you can still consistently be in touch with your patients every 6 months after their recall due date to remind them to book in. You do not have to have this on for every type of appointment or even for every provider. To find out more about setting this up head over to our help guides here.
Those are just a few ways in which Dentally is designed to make your lives easier. We are always open to new ideas that will help you. So please do get in touch at hello@dentally.co.
Look out for our next role-specific blog for more tips and tricks to make your lives easier with Dentally.