As we approach the end of 2022, it is always important to take some time to reflect on the year. So today we take a break from the usual communications to instead wish you a relaxing festive period and a joyous new year.
From the team at Dentally, we want to say a big thank you to all our customers for all your ongoing support, and ideas helping us to continue to develop our software.
As well as reflection, it is also a great time to plan for the coming year. Our Elevate team are here to help you streamline your processes, improve your workflows and help you reach your business goals in 2023. Book a call with our team today.
As usual, the Dentally teams opening hours will be adjusting slightly over the upcoming bank holidays so please save the information here to ensure you have our up-to-date availability on hand should you need it. You can also follow us over on our social accounts such as Instagram and LinkedIn where we will keep you up to date with any changes.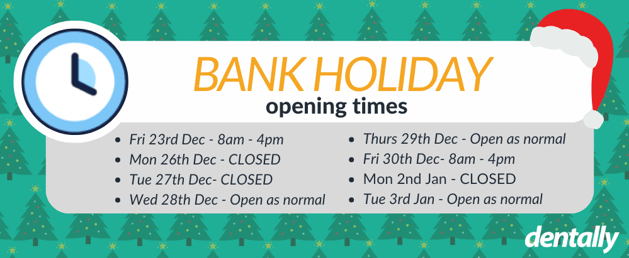 Thank you again and we look forward to working with you in 2023. If you do have any feedback or wish to get in touch then pop us an email at hello@dentally.co, as always we would love to hear from you.