As we begin our Winter Workshop this year, we will explore some really great support documents that you might find useful in your day to day practice life and we work through just some of the tutorials and guides which you might want to take a closer look at - whether you are a new user or looking to build or refresh your knowledge of Dentally.
This week we are going to start with a focus on Admin.
Getting Started
Now for some users 'Getting Started' this is often a collection of useful articles for when you first move on to Dentally - covering subjects such as practice settings and setting up your practice details. This may not be something you will need to revisit but sometimes it is worth just reviewing your patient settings or just a quick refresh if you are creating a new SMS template. You can find it here.
Dentally Admin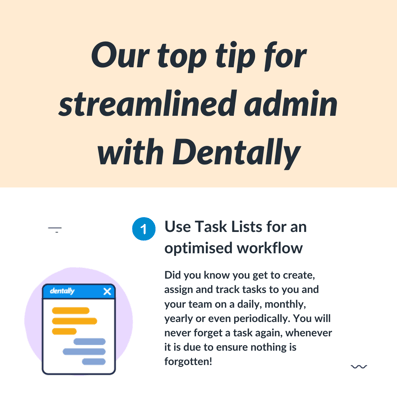 Dentally Admin is a collection of articles that focus on the admin functionality within the software - here is a shortcut. You will find several sections that cover:
Daily practice admin -

this will show you how to use features such as Chat, set up printers and Dentally Tasks.
People - a really important section of articles that you will find useful each week for a number of reasons, as it covers areas such as adding new users, adding GP, working hours amends and permission levels (plus lots more - remember this is just a whistle stop guide to the help centre!).
Legal- This will give you all the info you need for GDPR and marketing consent, so you ensure your contact preferences are all set up correctly.
Keep an eye out for our Friday comms series, next week we take a look at the help available for patient records and in the meantime, please explore yourself here.