It has been a very busy six months for us all as we reach the mid way point of 2022, dealing with the continued impact of people suffering from COVID-19, the implications of staff shortages both at an admin and clinical level and how to deal with unprecedented levels of demand from patients.
Managing a dental practice is often a never-ending to do list, to keep your practice running smoothly, managing staff workloads, staying connected to patients and providing exceptional dental care - not to mention the marketing, financial reporting and so much more!
Technology like Dentally, which leverages the power of cloud software has transformed not only how we all live but has provided dental practices with a more agile and flexible approach in the way patient management is undertaken.
Dentally provides more than just the basics of software practice management. It helps you save time, reduce the admin burden and allow your staff to be more productive, efficient and agile in the way you manage and care for your patients. Optimising efficiency in the practice with simple workflows and automation tools will also save you money.
As dental practitioners face these challenging times head on a day to day, week by week basis, is sometimes difficult to have complete clarity when fire fighting at so many levels. So that's why at Dentally we have introduced a customer success programme, Elevate.
Fresh perspective
Unlocking the power of Dentally and raising your business performance with our Elevate, Customer Success programme gives you as practice owner, a fresh perspective to the way your dental practice operates.
Backed by experience, our dedicated team work with you and your staff to unlock the power of Dentally and raise the performance of your business - supported by your own data and help you optimise your day to day in order to grow your practice in ways you may never have considered (and often not had time to think about it, especially in recent times!).
It will empower you to focus on a number of areas including: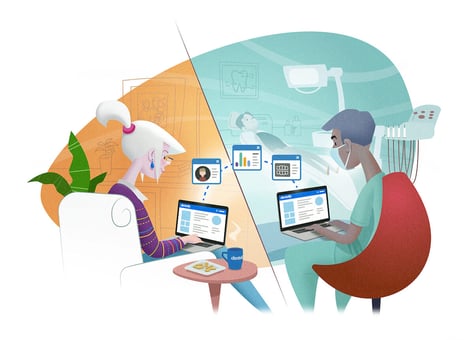 Automation of patient communication

Increase your efficiency

Achieve higher revenue

Take a smarter approach to finances
Patient communication
Patient communication will always be a critical part of running an effective dental practice, it is essential to stay connected to patients at every step of their contactless journey.
Taking advantage of automation tools in Dentally, allows you to communicate with the right people, at the right time, based on contact preferences - both routinely and quickly as required. Automating patient communication will also help you free up your team's time so they can deliver exceptional patient experiences and build loyalty.
Increase your efficiency
Taking a fresh look at your workflows is something we all wish we had time to do, so by working with our experienced Elevate team - we empower you to take a moment to consider and take stock. We will explore a number of areas, identifying ways you can make practice management simpler and more efficient.
We will look at your day to day processes within the practice. For example; these might include dealing with short notice cancellations, waiting lists and how to use different reports that will help you keep on top of unfinished treatment plans, filling gaps in your appointment book, recalls and using tasks list to manage workloads.
Higher Revenue
We understand that you will want to achieve higher revenue, so we will work with you and provide helpful suggestions that will keep your appointment book full, and show you how to use data to drive growth, with clever tools within the software to streamline all workflows.
Taking a smarter approach to finances is included in the Elevate programme. We will work with you to help you review your financial management across the practice; so that you can be sure you are recognising all of the income generated and have a clear picture with some powerful quick and real time reporting tools.
One to one
As part of the Elevate Customer Success Programme, you are allocated a dedicated consultant to provide you with one-to-one time. They will be on hand to support you and unlock the potential of your practice - as well as being able to provide helpful and fresh ideas to optimising all aspects of your workflow.
We work to help your team - so you are able to retain a happier staff of people who have the time needed to focus on delivering exceptional service and clinical patient care at every stage of your patient's journey.
Time to thrive
With the increasing issues surrounding staff retention, having the best possible tools at their disposal is essential. Whether that is simple to use admin and communication tools that can be automated, to payment allocation that keep clinical practitioners paid for the work they have done. It is always worth investing in the latest technology that will allow you to deal with the 'here and now' and allow you to adapt in the future.
Cloud enabled software from Dentally, backed by our new Elevate Customer Success programme means that you can be confident that your practice can operate smoothly, optimised at every part of your workflow and run by a team of people who are not over-stretched, but have the tools that boost morale and allow them to really focus on patient care.
Talk to our team today to learn more or to read more about our Elevate Programme here.