Dentally's Patient Portal is a way to manage the patient's journey with your dental practice, helping you to build and develop your patient relationships.
The Patient Portal is customised with your practice branding, and can be reached by a link sent by email or SMS or by easily adding a login section to your website. It allows you to handle your patient journey as a 'one stop shop' especially now as practices follow Covid-19 guidance, supporting social distancing and minimising the time the patient needs to spend with non clinical staff.

Medical History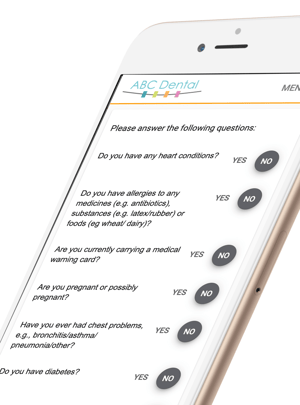 The first step in running a contactless reception is to invite patients to complete a medical history or update an existing version before their appointment at the practice. This can easily be completed by the patient using their secure login to the Patient Portal.
The questions for your medical history can be configured in Dentally, new questions added will show the patient that they must update their medical history once they log in. The patient must complete all the questions and include any supplementary information. They then sign by ticking the agreement and save. A summary of their responses is then shown which the patient can check and then click update to save their updated medical history. This is then immediately saved within Dentally on the patient's record for the practitioner to review. Learn more.
New Feature: Self Check in
This new feature within the Patient Portal allows your patient to check in to any booked appointments they have within the next 60 minutes by logging into their portal as normal. Once they check in, it will update the patient status in Dentally to 'Arrived'. This means the practitioner is aware of the patient's arrival and prevents the patient having to spend time sitting in the waiting room, minimising their time with other people on site. Further information on this exciting new feature is available here.
New Feature: Treatment Plans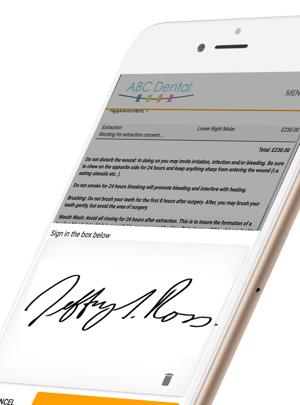 Another new feature...If the patient requires treatment, the treatment plan estimates and consent forms you create in Dentally are now presented within the Portal for the patient to review and sign once they have left the practice. Once the patient logs in to the portal, they will be shown if there are any unsigned forms, they can also review past estimates. Once signed, the PDF document in the patient's correspondence history in Dentally is updated with their signature. For more information take a look at our support document.
Payments in the Portal
Don't forget as part of the patient's journey through your practice in a contactless reception workflow, once the patient has completed their appointment, they can already pay for their treatment and any outstanding balances on their account through the Patient Portal.
As part of your marketing plans for the dental practice, you may wish to offer promotional codes which the patient can redeem as discounts when paying their balance through the Portal. It is easy to set up a promotional code in your Portal settings, by creating a simple code and setting it to be a discount or fixed amount and any redemption limits. To learn about setting this up for your practice, take a look at our support documentation.
What about Dentally Online Appointment Booking?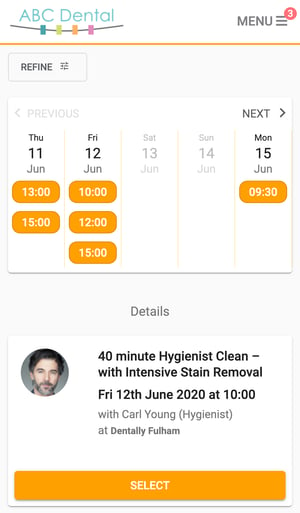 The Patient Portal can be combined with another product from Dentally, Online Appointment Booking. So if you wished to have a full end-to-end patient experience, you can allow your patients to view, book, reschedule, manage and cancel appointments 24 hours a day, 7 days a week.
It also works with the automatic recalls within Dentally, the correspondence sent can simply contain a link to the so the patient can immediately book their recall appointment when they receive their reminder and again helps you free up valuable time for your reception team. There is no limit on bookings or treatment types and links with SMS and email booking confirmations.
In addition, for new or existing patients - a deposit can be taken for a private to secure the booking. You easily add in the online booking function to your website or create a smart pop-up to provide your patients with a great booking experience. To learn more click here.
Learn more
All the details about our patient portal can be found in our support area. If you would like more details then please email help@dentally.co or arrange a demo of the Patient Portal or Online Appointment Booking here.