We appreciate how important people are in your practice, whether they are team members, colleagues, patients or suppliers, ensuring great relationships with the businesses and stakeholders you work with is essential.
If you are in the process of considering a move to Dentally or have recently joined us, for your patient management software - we thought we would give you a short introduction to just some of our front of house team who will be on hand at every step of your journey.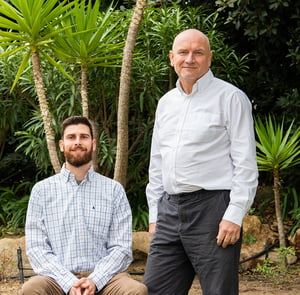 Firstly we introduce our Sales Team; Bill and Sam. They are here to advise and answer any questions you have as you take a closer look at our software, to see if it is a great match for your business. They both have a wealth of experience and are focused on ensuring you are happy and that Dentally is the best solution for your individual practice needs.
With Sam you are in safe hands. He joined Dentally in 2016 as one of our first practice consultants - moving to us from one of our competitors where he spent just over two years as a Sales Manager. Sam knows Dentally inside and out! He has a detailed understanding of both the dental industry and practice management software - both cloud based and server based. He is dedicated and friendly, and will always ensure you have whatever information you need, so you can make the best decision for your dental practice. His online demonstrations are personalised and provide a good understanding of how Dentally works and more importantly how it will suit your practice requirements. To talk to Sam call 020 8075 1661 or book in a chat here at a day and time to suit you.
Bill is actually a microbiologist, but as he describes as the 'mysteries of a career' he went from hospital labs to pharmaceutical sales. He was at Software of Excellence for 20 years, before joining the Dentally team in 2017. With his wealth of experience Bill has seen a real evolution of technology and solutions for dental practices, and he understands the concerns that dentists may have moving to a cloud based system. With this appreciation, Bill is well placed to talk to owners about what they are looking to achieve with their dental practice and advising as to the ways in which Dentally can support and help them do this. To talk to Bill call 020 8075 1662 or book a meeting with him here.
If you would like to know more about moving to Dentally and would like to start 2020 with a fresh approach to your practice management software, simply email us today: hello@dentally.co