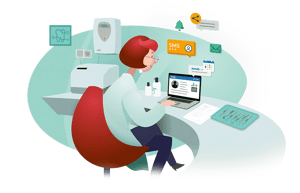 This year there have been many unprecedented challenges as we have all worked together to help prevent the transmission of COVID-19. For dental practitioners, keeping staff safe and providing patients with much needed care has been a priority, and at the heart of both has been communication.
Patient communication has never been more important and cloud technology has helped transform the way dental practitioners communicate with patients and run their practices effectively.
The power of cloud technology has been leveraged in many aspects of our everyday lives for several years. It has gradually become an essential tool to keep in touch with friends, share photos with family or to stream the latest box set. Recently, it has helped us all stay connected during COVID-19 lockdown and tier guidance.
Dental practices using cloud-enabled dental software solutions like Dentally, have transformed the way practitioners manage their practices and how they communicate with patients, no matter what is happening in the world around us.
Better, simpler patient communication keeps your practice running smoothly, whether it is through two way communication direct from the patient record via telephone, SMS or email, automating your comms, setting up bulk messaging or staff members being able to undertake telephone triage appointments while working remotely.
During the first lockdown of 2020 back in March, when dental practices across the UK had to close, patient communication became even more critical. Dr Dattani from Kent Smile Studio, talks about his experience: "It was all about how we can best communicate with our patients. Communication was key. At that time there was nothing more we could do but communicate with our patients. And that's where Dentally came into its own, proving to me it is one of the best systems".
He continues "Dentally ticked all the boxes...we needed patients to know we were there for them. I couldn't have done that in another system". Dr Dattani not only joined Dentally in 2020 but he was able to deliver the care to patients that was really needed whilst safely adhering to COVID-19 guidance. Watch the video interview:
Dentally provides a suite of communication tools that help you ensure the right patient gets the right patient, at the right time and using their preferred method of contact. You can easily speak to one patient using our outbound telephone calling feature or target bulk messaging to a group of patients that fit a particular criteria or need. Correspondence templates ensure consistent branding and the right type of information, and you can automate the process at a level that you are happy with to save your reception team valuable time. You can tailor the tools to fit your practice.
Patients can receive the comms in whatever correspondence method they prefer, so just because the management of the process is digital doesn't mean you can't still send paper-based letters to those patients who prefer to receive something in the post. The Dentally Mail feature supports this, saving you time, hassle and expense by automating your patients' mail through our processing centre. Take a closer look at our patient communication tools online here
Visit https://info.dentally.co/future-in-practice to discover how we can make your patient management more effective. It's time to build the practice you want. Dentally: The future in practice.