At Dentally we understand you have a fairly large 'to do' list both in terms of clinical work and patient admin, which is why we have introduced yet another new feature to Dentally to ease the burden.
Introducing Automated Patient Communications, which allows you to send messages to patients that can be scheduled around certain events such as appointments, creation of invoices or estimates. Saving you time and ensuring you never forget to email an invoice or patient follow up again, your patient communications happen automatically with some simple settings within Dentally.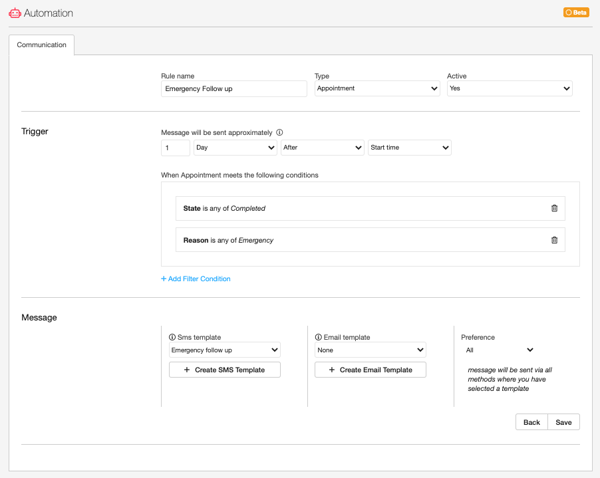 Save time with peace of mind
Once you have set up the workflow and defined your parameters, you can simply leave it to Dentally's systems to send out the SMS and emails without you having to think about it. We give you peace of mind that your patients are receiving all your communications exactly as you planned.
Simple to build and easy to target exactly as you want it.
As you would expect from Dentally, there is a simple step by step workflow to build the criteria for your messages. Simply follow the steps on-screen and add conditions and filters.
There are of course numerous scenarios where this new functionality could work for your dental practice, here are just three examples to give you some initial ideas:
Example one: If you would like to automatically send an SMS follow-up message to patients one day after they have attended an Emergency appointment, you can do exactly this. Of course, you can use the data tags you know and trust to personalise your SMS or email so that your patients receive individually targeted messages every time without taking up any of your staff time.
Example two: Stage several messages prior to the patient's appointment using email or SMS and include links for the patient to complete a medical history or update their contact details by visiting your patient portal and automate the self check in message closer to the appointment start time. Follow up messages can ask the patient for feedback about their visit or send specific post appointment advice related to the procedure or consultation they were attending for.
Example three: How about sending a copy of a patient's unpaid invoice a week after it was created it if is still not paid and include a payment link for them to pay securely online, or a receipt of payment an hour after the invoice was created and paid? If you like to email the patient a copy of their estimate for their records, there's no need to remember to do it - Automation can simply email it to the patient a set amount of time after you have created one.
If you want to know more about Dentally's automated communications, get in touch at help@dentally.co and we'll answer your questions or you can watch our Webinar by subscribing to our dedicated channel here.