Continuing the series this summer on how to make the best of Dentally, this week we are looking at the very powerful Patients Report. If you have the patient data correct, you can find out so much about your patients that you can use to build a stronger practice and deliver the best clinical care.
What do you want to know? These are examples of questions you can find the answers to using the Patients Report.
1. How many patients are over 60?
Useful to plan appointments during the day when they might not be at work
2. How many over 60s are on a payment plan?
Useful to know if you want to manage your cash flow or if you want to look at changing payment plans.
3. How many U18s patients do we have?
Useful if you want to plan your appointment book during school holidays or after school hours.
4. How many patients live in L17?
Useful to know if you want to initiate an offline marketing (leafleting) campaign in the area.
5. How many patients are "cold" patients?
Useful to know if you want to cleanse your data, or go back to patients and realise the potential in your database.
6. How many patients do not have email or SMS details?
Useful if you want to know why they aren't receiving appointment reminders or recalls. Or whether it would be cost-effective to subscribe to Dentally Mail.
7. How many patients over 50 are registered with Dentist X?
Useful to know if Dentist X wants to alter their surgery days or hours.
8. How many over 80s do not have a mobile?
Useful if you want to know how many letters you need to send out, and whether to subscribe to Dentally mail.
9. How many patients have opted out of marketing?
Useful if you are considering spending money on a new marketing campaign so that you can evaluate the cost-effectiveness of certain alternatives.
10. What is your most effective acquisition source this year?
Useful to know the cost-effectiveness of your marketing campaigns.
11. How many patients owe money for unpaid invoices?
Useful to know to manage your cash flow and be able to contact these patients and arrange for payment plans.
12. How many patients are listed as bad debtors and how much do they owe?
Useful to know to manage your cash flow and implement credit control procedures to recoup lost revenue, and to stop it from getting out of hand.
13. How many new patients logged in via the patient portal this quarter?
Useful to know how effective the patient portal is at encouraging new patients to book an appointment.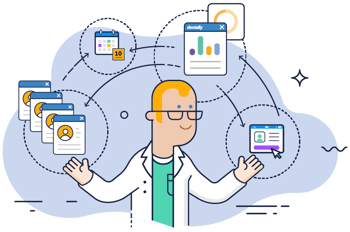 14. How many private patients are booked in for the next 3 weeks and what is my projected treatment value from these patients?
Useful to know if you want to book holidays or plan workloads for your practitioners.
15. How many Denplan patients have treatment over £500 planned in the next month?
Useful to know if you want to evaluate the effectiveness of a payment plan and whether it's used by patients and cost-effective for you as a business.
So you see, there are so many questions you can ask of your patient data using the Patients report. And having asked the question once, you can save the request as a Segment so that you can ask it again and again. And best of all, using your templates, you can contact the selected patients with relevant, targeted messages from within the Patients report window so that the right message is delivered to the right people at the touch of a button. Simple and easy to use with a powerful engine at the back sums up Dentally perfectly.
The Dentally Support team has put together a series of tutorials answering frequently asked questions about reports, including the Patients Report here and are available to answer your questions at hello@dentally.co