Ease of use has always been and will continue to be at the heart of Dentally's ethos - that is why we are continuously striving to make your life as a team member of a busy dental practice more efficient. Dentally puts our customers first to minimise the burden of time-consuming daily admin tasks - giving you more time for all-important patient care.
Dentally's cloud-enabled practice management software has an array of time-saving tools including automated workflows, easy to use calendars, the ability for remote working, and so much more to help streamline your practice and provide the best patient care. After all, we understand that running a dental practice, especially over the last two years during the pandemic, takes adaptability and time - we want to help reduce stress wherever we can.
Emails within Dentally are there to bridge a gap between your practice and its patients - thanking them for attending, providing them with estimate or payment details, referral information, and reminding them of upcoming appointments. No matter what kind of information you need to share with patients Dentally's email feature is the perfect tool. We have now introduced even more functionality to enhance your experience of email communications from Dentally, here is just a brief overview of the latest changes.
Save an email as a draft
Dentally now provides you with the ability to save your emails as a draft so you can return to the email, editing and sending it at a later date. Sometimes during practice opening hours, there will be times when completing an email is not possible. Perhaps somebody needs your attention, or your next patient has arrived - instead of losing that email and having to go back and rewrite it at a later time, you can hit the save draft button and return to editing your email later.
When you return, your email will be saved as a draft under the patient correspondence tab - so you can pick up where you left off, continuing to edit the email and sending it when you are ready.
Add specialist
Sometimes when writing up an email to a patient, it may be necessary to include a specialist in the email too. Perhaps an orthodontist or a surgeon. This process is now made simple with Dentally's new email update. All you have to do is hit the Add Specialist button when composing an email and easily copy (CC) the required person. That way, you know your patients always receive the best possible patient care, and everybody involved in the process will be up to date.
Add attachments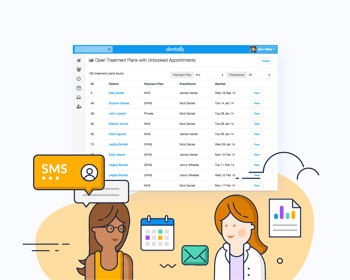 There will be times during your busy day in the practice when you need to add an attachment to your emails. Until recently, this was not possible in Dentally - however, we have simplified the process to ensure that ease of use remains at the heart of all that we do.
Maybe you need to attach a scan to your email or a voucher that your patient has won - whatever the reason, you can now add attachments easily. All you have to do is click the add attachment bottom in the left-hand corner of your compose email box and select the file you wish to attach.
Keep everything organised and streamlined with Dentally, and you can rest easy knowing that your patients are receiving the best care and customer service, and your staff will no longer be wasting time on mundane admin tasks. Read more about our new email enhancements here.
Talk to our team today at hello@dentally.co to find out more about how we can help save your practice time and money or, take a look at our support area here.