Taking the step to move your practice management from paper to digital can appear daunting but in today's unpredictable world a simple to use and flexible solution is essential in navigating the challenges faced in delivering exceptional clinical dental care to all.
In many aspects of everyday life, the acceptance of technology during the global COVID-19 pandemic and in particular cloud-based platforms has allowed us all to stay connected with our family, friends and employers. Cloud technology has provided us with the tools to keep in touch, entertained, fed, clothed and safe - and for dentistry, it has allowed dental practitioners to streamline processes, triage patient care, deliver contactless journeys and manage their teams.
Cloud-enabled dental software, like Dentally, provides your dental practice with the digital tools to transform your practice in a simple and effective way - saving you time, keeping costs down, automating your patient communications, managing finances and keeping your appointment book filled. It can transform all aspects of your day to day processes and for your team, it is easy to use, so the move to digital is seamless.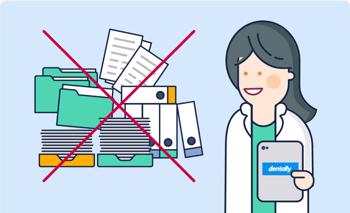 There are a number of benefits that moving to a paperless practice can offer your practice including:
Environmentally friendly

Contactless patient experience

Versatility of working from anywhere

Ease of use

Reduced costs from an IT perspective

Saves time

Automation

And much more..

.
Sustainable and safe patient experience
Today, we are of course all hugely conscious of the impact that our business can have on the environment at a community level and the far-reaching wider implications.
There are a number of ways in which Dentally enables a more environmentally friendly and sustainable approach by supporting your practice to become paperless, including removing the need for paper patient records and admin forms. With tools such as contactless reception, the Dentally iPad app and Patient Portal, patients can complete online medical history, self-check-in, review and electronically sign estimates and use payment links to pay for their treatment, thus negating the need for paper.
The digital experience is seamless and secure for the patient and improves your 'green' footprint by removing the paper-based element to the patient's journey through the practice - which of course also reduces the risk of cross-infection by the sharing of pens for form filling.
Flexible cloud benefits
'Working from home' is something that we have all experienced this past year, but for dental practitioners, a solution like Dentally has enabled non-clinical staff to securely work from home, stay connected with staff on-site, undertake admin tasks and much needed patient communication.
Dentally's cloud-based software is accessible over the internet, so all you need is the internet or 4G and you can access it and inter-connect with other tools and applications. To use Dentally just download a browser, Google Chrome and login securely using two-factor authentication for that added security. There is no need for expensive, complicated and high specification hardware or servers. Plus, no on-site server means greater data security, protecting your practice from data loss as a result of hardware failure or theft. We back up our software multiple times during the day, and it's all done using advanced, automatic procedures.
You can be confident that your data is secure.
Save time
Time is a precious commodity so tools that can help you save time and resources whilst optimising your practice workflow efficiency is critical. Task automation for Dentally is focused around streamlining processes within the practice, so that simple daily routines and repetitive tasks become less of an admin burden and free up valuable staff time to focus on patient care.
Time spent on filling out paperwork or carrying out telephone reminders are resource-heavy - our software allows you to streamline these tasks to produce a positive impact on your patient's experience and your team's workload. Features such as Automated Recalls and Automated Communications can prevent things from being forgotten or missed within the hectic practice schedule - find out more. It not only provides your patients with a great and safe experience, it also keeps your appointment book full.
Team engagement
At Dentally, we understand that switching to a digital system from paper can appear daunting for your staff. We work with your team using a collaborative staged approach, assisting in alleviating fears - supporting your team at every step to learn the new system, so they embrace it and can see the benefits it brings from the outset.
Ease of use is at the heart of the Dentally ethos, and our team is committed to ensuring that every part of our software is simple to use - for all members of your team, whatever their skill set or confidence with IT. From our training team, to our responsive support team, you can be confident that your staff will have our full attention whatever their query might be.https://www.dentally.com/en-ie/product-features/dentally/easy-onboarding
Talk to us
Moving to Dentally from a paper-based system will help you reduce your costs, save valuable time on admin and manage your practice efficiently to deliver the highest standard of patient care with ease. Visit https://www.dentally.com/en-ie/who-we-help/paper-based-practices for further details or email hello@dentally.co to talk to our team and arrange a demo. Your blog post content here…