Living through a global pandemic over the last year has changed the way dental practices operate. Having a practice management software in place that saves time is more imperative than ever to the successful, seamless running of your practice.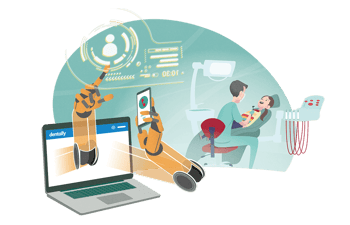 With the promise of a return to some kind of normality ahead naturally, you may be feeling apprehensive towards your seemingly never-ending to-do list, so introducing a practice management software that saves time is guaranteed to make the transition to regularity a seamless experience for both you and your practice staff.
At Dentally, we understand that dental practitioners have had to adapt multiple times and have been challenged when it comes to delivering much-needed patient care and safeguarding staff over the last 12 months. That's why the Dentally team have been on hand every step of your journey to ensure your practice success. Our top priority now, as it always has been, is saving you time whilst ensuring you can deliver the highest standards of dentistry to those that need it.
Dentally's cloud-enabled software provides you with the perfect tool kit to stay on top of admin and keep control of your hectic diary all whilst fitting around both you and your patient's needs - from task automation, easy to use calendars, simple to use clinical charting and real-time reporting- you and your staff can expect a simple, efficient and agile return to normality.
Cloud-enabled solution
Let's take a look at the ways your practice can use Dentally's cloud-enabled solution as a pivotal tool to save you time - because the new normal means you have more tasks to complete now than ever before.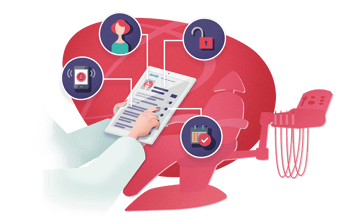 It's essential as you're going about the day to day runnings of the practice, from purchasing and using PPE to Pre Visit COVID-19 Triage Forms, that your practice does not slow down resultantly becoming detrimental to your patient's safety and satisfaction.
At Dentally we can offer a practice management software that not only saves you time but reduces the burden of mundane admin tasks allowing for your staff to be more efficient and dexterous when managing patient care - streamlining the journey for the practice and your patients.
Secure remote access
Many staff members have been working from home over the last year for reasons such as shielding to child care. Our secure cloud-based software enables you to rest easy knowing that staff can access all aspects of Dentally whether they're on-site or at home. This level of flexibility means no disruption when it comes to providing vital patient care.
Resources such as shared calendars, diary access, Dentally Chat, and Task Lists ensure that your remote staff never miss a thing. Whether that be important practice updates, patient notes, or a simple Dentally Chat message requesting more tea bags for the practice - no matter the issue staff will feel included and notified regardless of their location.
Automation
Automating your patient communications can make patient journey's seamless and safe - thus saving you and your staff valuable time. Automation allows you to set up and schedule messages that are triggered by certain events within the patient's journey.
From appointment bookings, invoices or pre and post appointment documents that require signatures - your patients and your practice know that all of these things will be handled effortlessly with no chance of any step or process being missed. After all - we are human and mistakes can be made when there are so many tasks to complete. Automation eliminates the risk of human error keeping your patients up to date and engaged throughout their whole journey, and guarantees that you are providing the best and safest patient care.
Patient management is made simple with Automation on Dentally, saving you both time and resources by taking care of admin duties, tracking tasks, managing finances and all other aspects involved in the running of your practice.
Dentally can help you save time completing day to day tasks, resultantly ensuring that you have more time to do the important stuff - dentistry. Talk to the team today hello@dentally.co, to learn more or if you are an existing customer then please take a look at our Support area.