Using the cloud has become the norm for many people, whether that is through Netflix and Now TV to catch up on the latest shows, or by sharing content online with family and friends via Facebook or Instagram. Industries across the globe have leveraged the power of the cloud to enhance and grow their businesses and Dentally is no different.
We have taken advantage of the technology so readily available to us and have used this to create a complete cloud practice management software. Your data, the tools you use, your patient information and x-rays are all securely and safely stored online by us.

Getting Technical
We are one of a few, true cloud-based solutions, (SaaS - software as a service) using a network of multiple remote servers hosted online to store, manage and process data. In Dentistry the utilisation of cloud has enabled practices across the globe to overcome the challenges of the past few years – from keeping patients in the loop with Dentally Portals contactless journey to overcoming staff shortages with flexible working capabilities.
Why choose cloud?
When searching for ways to improve and grow your dental practice, today's market can be confusing and crowded with the number of solutions available and finding the right one is a task in itself. Here at Dentally we know how crucial it can be to not only find something that will work best for you now, but to find something that is future proof!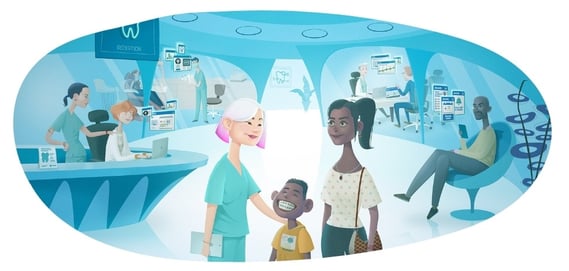 You can be certain that with Dentally your software will scale with you as your practice grows. Helping you stay connected to patients through optimised workflows, ensuring your diary is filled with the use of Dentally Portal and keeping your staff happy with quick reporting and easy-to-use tools.
Dentally keeps everything in one place, you will no longer need multiple software to run each aspect of the surgery. With all patient information and images being in the cloud, you can access all your data from anywhere with a secure internet connection. Simply log into Dentally online and you are good to go.