Do you spend a lot of time and energy chasing your patients to remind or recall them for their appointments? well with Dentally Portal you don't have to.
Empowering your patients with Dentally Portal can not only improve their journey but also reduces the amount of time you spend on daily admin. Our team have been working to increase the customisation and control you have over your online booking and forms system, ensuring your experience with Dentally Portal is a positive one.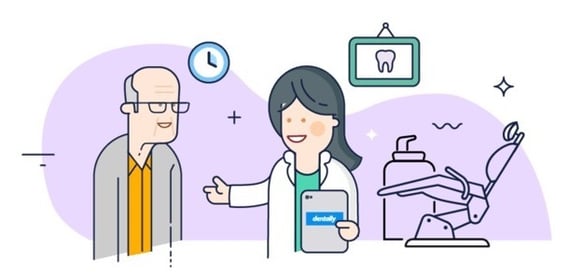 What is Dentally Portal?
Dentally Portal is a platform that introduces both you and your patients to the contactless patient journey. It allows you to provide your patients with access to your services through your website alone. Patients will be able to create their own online accounts and take control of booking their own dental care, giving them a smooth easy start to their experience at your practice.
Why do I need Dentally Portal?
Dentally Portal helps relieve some of those daily pressures and reduces admin time in the process. We are here to help you with the use of innovative yet simple solutions. Let's look at a few of the things Dentally Portal can help you with;
Prompt patients to book recalls online without any interaction needed from the practice.

Filling diary space by opening standalone consultation appointments for whitening, implants, straightening etc.

Reducing FTA's by taking deposits upfront for both your recall and stand-alone appointments.

Stay on top of admin with the use of online forms and medical histories.

Minimise time spent chasing outstanding balances as these can now be paid in full online through the patient's own portal page.
How to use Dentally Portal?
When you are getting started with Dentally Portal, our features training team will offer guidance towards a best practice setup. Our support team will be on hand after your initial training to provide ongoing support so you can confidentially learn your way around Dentally Portal.
However, there is no one way to use it. Every practice is different, and we know that you may wish to use Dentally Portal in your own way. Our manage app will help you stay in full control of your diary and settings throughout the patient's journey, read more about how you can use and customise Dentally Portal in our help guides here.
For further help configuring your Dentally Portal get in touch with the support team via live chat in Dentally.
If you are yet to utilise Dentally Portal then book a demo with our team today hello@dentally.co