Finding time for your own development and to grow your business when keeping a practice running day to day can be tough. At Dentally we understand that your patients always come first, that's where Dentally Elevate can help!
Dentally's customer success program, Elevate, is tailored to your practice, your needs and desired outcomes, with one common goal... to help you grow, get the best out of our software and elevate your business.
Dentally Elevate gives you the opportunity to speak with our team as and when it suits you, with no strings attached. Our team of Elevate consultants are here to challenge your everyday thinking and offer you new perspectives on the tasks you find yourself doing time and again. We will work with you and the practice team to help you get the most out of Dentally.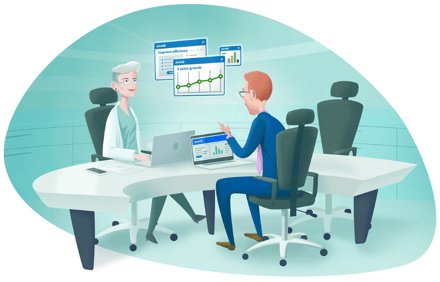 Our 1-2-1 chats will help guide you in exploring and learning more about Dentally's features, such as;
Automated patient communications and Dentally Mail. We will help you set up Dentally so the software does all the tedious jobs for you, including sending letters to your patients.
Built-in dashboards and fast reporting tools. We will guide you on how you can use the data at your fingertips to manage and grow your dental practice
Online booking. We can help you see the benefits of utilising Dentally Portal to keep your appointment book full, with reduced risks to FTA's and late cancellations with online deposits.
Dentally Portal. We will explore how you can guarantee an exceptional patient experience and how giving your patients control of their oral health can build loyalty.
Online Reviews. We can explain the benefits of having an online presence and how growing your google reviews can help you attract and retain patients with the use of integrations such as Working Feedback.
This is just a glimpse of what you can expect from being part of the Dentally Elevate Programme. Click here to get in touch with our team today to book your first Elevate call, it is all included in the service we provide.
For existing Elevate customers reach out to your consultant here to book in for a review to ensure you are on track to meet your business goals this year.