If you are finding your reception desk is busier than ever…then we can help. Dentally Portal encourages your patients to self serve online, saving your team time to spend on other tasks.
There have been a number of recent surveys published, that all talk about the issues currently being faced. For example; the number of health workers reporting anxiety, depression and stress has increased by more than 50% since the beginning of the pandemic according to a HSE study*. And of course we have all seen the headlines about the rates of nurses and dentists that have left the profession. But what's less well known is that there's also a record number of vacancies in administration. As patient demand continues to increase, those who stay on feel overworked, undervalued and unsafe. At Dentally, we're on a mission to reduce the workload of the reception team.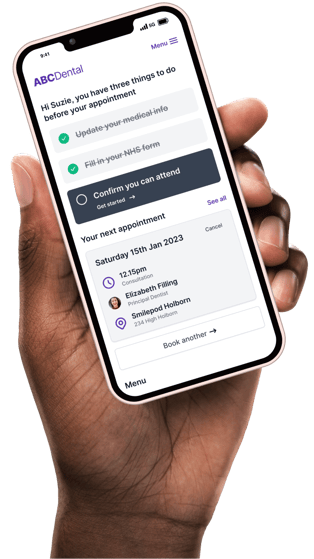 Dentally Portal empowers patients to manage their own appointments, document signing and payments. Their virtual reception is open at any time of the day, and they can access it on their own device. With Dentally Portal, front-of-house staff can focus less on phone calls and tedious tasks, and more on what they are best at: Making patients feel comfortable, valued and prepared for their treatment.
Our team have been focused on developing a new design for the Dentally Portal which helps you manage your crucial pre-appointment tasks in a new checklist feature. The checklist shows time-sensitive actions that appear when patients need to complete them. Patients can clearly see what's done and what's still outstanding before their appointment.
We've also added checklist items for medical histories and NHS PR forms to help you deal with the information - it also updates the patient's record in Dentally in real time, so your clinical staff can be assured they have all the details they need to hand.
Learn more
If you are already a Dentally Portal customer, then you will automatically be moved to the new admin panel in the app. If you have yet to take a look at Dentally Portal customer and want to join our mission to make practice and patient experiences better, read more or get in touch.
*
https://www.hse.gov.uk/statistics/causdis/stress.pdf
https://www.theguardian.com/society/2022/may/01/dental-deserts-form-in-england-as-dentists-quit-nhs-experts-warn
https://www.ons.gov.uk/employmentandlabourmarket/peopleinwork/employmentandemployeetypes/bulletins/jobsandvacanciesintheuk/latest#vacancies-and-jobs-in-the-uk-data