Dentistry interviewed our co-founders, Nick Davies and James Harker, to find out how cloud-based technology is bringing important benefits to dental practice management software. If you missed it in the publication, read on and get those questions answered...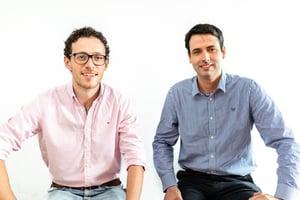 What is the simple definition of cloud-based software?
Cloud-based software has been around for 20+ years, it is software that isn't tied to a physical location - like a dental practice. This model uses remote servers to store and process data that is then accessed by users through a web browser. As you only need a browser and an internet connection to be able to use the software it means that you can use the software from anywhere on pretty much any device.
What characteristics does cloud based software have compared to hosted software?
Whilst it may sound similar hosted software is very different from cloud software. Hosted software simply means that the data is stored elsewhere. Hosted software isn't accessed through a browser so you'll still need to download and install special software locally to a PC and manually run updates to be able to use it. Cloud software by its nature has been designed and built to run over the internet - this usually means that the software is fast and reliable even on the slowest of internet connections. As hosted software hasn't been designed for the internet there are normally pretty severe limitations if you try and use it this way. Hosted software can be pretty expensive and it's not unheard of for software companies to completely remove certain features from a program in order to make it work in a hosted environment.
Is cloud software reliable?
When done properly cloud software can be extremely reliable. It can be so reliable in fact that when some of the bigger providers, like Facebook and Netflix, go offline it often makes headline news, because it is so unusual.
What makes it better than having my own server, in my own practice, that I see and control?
There are a number of factors that make cloud software better than running your own server. To start with cloud software is run on enterprise grade hardware in a datacenter that comes with things like fire suppression systems, around the clock security and backup power generators should the power grid go offline. This means there's literally zero chance of someone spilling a cup of coffee on the server or accidentally unplugging it to plug in the vacuum cleaner. Usually cloud software providers, like Dentally, will have redundancy plans in place to allow them to switch over to a secondary, backup datacenter should anything happen with the first. Running a secondary server in a different location just in case of emergencies isn't something a typical dental practice is going to want to spend time or money on.
Secondly, cloud software providers will employ teams of specialist developers and engineers whose sole job is to make sure that the software is up and running at all times. These teams will spend time planning and rehearsing for even the most unlikely of problems meaning that even if the worst were to happen the impact on users should minimal. As cloud software means there isn't anything to download an install it's much easier for software providers to release updates. Security patches and bugs can be fixed in real time without any knowledge or interaction from users.
Cloud software allows users to focus on their jobs without having to worry about all of the additional responsibility like install updates, backups and reliability issues that come with running legacy software.
Is adopting cloud technology more expensive than traditional storage/software?
No, in fact quite the opposite, the costs of switching to the cloud are really quite low, and then the ongoing saving that the cloud offers will continue to deliver a good return on investment, a direct contrast to legacy in-house IT systems.
What happens if my internet goes down?
Whilst you do need to be connected to the Internet to access cloud software you don't need anything fast. When our team are offsite, we just use our laptops connected to their phones using 3G or 4G and that works great.
Do I need expensive hardware to use this type of software?
That's one of the best things, you don't need anything fancy, just a device that can connect to the internet. For the practice any modern computer will do but you can also access Dentally on other devices such as an iPad when you're at home
Do I still need to worry about things like backing up data?
Anything that's put into Dentally or other cloud services will be backed up by default, so there is nothing for the practice to have to manage. Dentally uses much more advanced backup procedures
How can I use this type of software to protect against data loss?
Yes, cloud based software normally provides a much higher degree of protection against loss than software on a server in the practice. At Dentally we have a multitude of different servers all running in parallel, so if there's an issue with one it has no effect on the user or their data.
Won't the GDC or CQC have a problem with me not holding the data myself?
No, all you need to ensure is that you're data is being looked after to the right standards, and Dentally ensures we do that on your behalf. In that respect it's much easier for the practice as they have fewer things to worry about when it comes to the regulators
On a day-to-day basis how can using cloud-based technology improve my practice IT?
Cloud based software drastically reduces and simplifies your practice IT setup as you only need an computer with an internet connection to be able to work. This allows you to spend more time working on the important bits of your dental practice - or even less time working as you don't have to hang around on evenings and weekends waiting for the latest update to install.
What should I be considering when selecting a supplier for my patient management software?
Most important is whether the software will be the right fit for your business and can it help you make the progress you want. Then it's also important to look for a supplier that will grow and adapt the software as the demands of the market change over time, do they embrace modern technology. It's important to consider the total cost of ownership, not just the price of the software, but the servers that are needed, IT infrastructure and the time needed to maintain the system with updates and backups
Can I still integrate with some of the other tools I use in the practice such as imaging and finance?
Absolutely, Dentally integrates with all the major imaging systems, and we've recently partnered with Planmeca to developer an even better deep imaging integration. Beyond that we believe that Dentally will work best by doing what we do well, and integrating with others that are best in class at what they do. This is what drives our integrations with products like Xero online accounting.
What do you see as the future for dental patient management software?
We believe that dental software is going to automate a lot more of the mundane and repetitive admin tasks that are part of running a dental practice. This will allow users to focus on the more on building and maintaining relationships with patients and continue to drive up the level of patient care.
How is the market changing in your opinion?
We see patients demanding more and more from their dental practices. Patients want their dental practice to fit around them, not the other way around. A good example of this is a practice offering online appointment booking so they can book an appointment any time of day or night.
What is the future for dentists and patient management software, will it ever really make the lives of dentists easier?
Absolutely! The more the software improves the less time dentists will need to spend interacting with it. Dental software is going to be integrated with more and more different services allowing practices to become more and more automated.
What do you see as the biggest challenge for dentists in the next two years and five years?
For private practices, as standards improve we think they're going to have to compete harder and harder for patients. The level of care patients expect to receive is only going up.
For NHS practices we think the NHS is going to demand more and more for dental practices for the same or less money. Without a fundamental rethink about how NHS dentistry is delivered, it is going to become more difficult for practices to offer a high level of patient care.
You both speak to countless dentists in the industry, and so have seen a host of different ways of running successful practices. What would be the top things you would recommend I do as a dentist to make my life easier and my practice run more efficiently and profitable?
Implement ways to improve your patient communication and messaging, to strengthen relationships in a competitive space.

Use data to drive business decision making.

Embrace the digital workflow, this can be a huge time & space saver.

Don't be scared to experiment with your pricing.
From your overseas clients do you see any learning there for the future that the UK should be embracing?
As most dentistry that happens overseas would be classified as private dentistry, practices put the patient at the forefront of everything they do. Practices are embracing technology to improve their diagnosis and treatment of patients - for example the adoption rate of CBCT Scanners in the US and the Rest of Europe is much higher than it is in the UK.
This interview appeared in a special 'Embrace the future' supplement from Dentistry, if you would like a copy of the full publication - simply click here to download your copy - happy reading!