With Dentally your patients can expect a smooth and seamless patient experience, the Dentally iPad app allows your reception team to check in patients as they arrive for their appointments, and patients themselves can create and sign medical history, plus consent to planned treatments.
Now Dentally is excited to announce new product developments with the iPad app - increasing its functionality. The new update means that practices can now get patients to sign the NHS PR form on the iPad.
The NHS PR form is automatically filled in using the patient's existing details and exemption that are held within Dentally. All the patient has to do is check all the details on the iPad and sign. The form will then be automatically uploaded to Dentally and securely stored in the patient's record.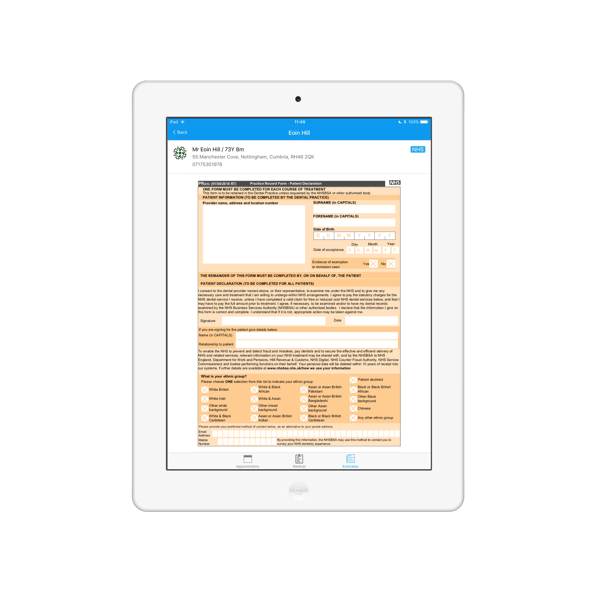 Key benefits of this new functionality:
Less paperwork - all NHS forms in England Wales can be signed electronically, so NHS practices can do their bit for the environment and go paperless.

The patients details and exemption information are all pre-populated so it means that the patient and your reception team don't have to spend time filling in the forms.

It is quick and easy to complete.

Once completed the forms are automatically uploaded to the Patient's record in Dentally, so have a record to refer back to in the future.

The form is available in three versions: English, Welsh and Welsh in the Welsh language so it is fully compatible and accessible for patients across England and Wales.

The GP17 form for the iPad for NHS practices in Scotland is under development and will be available soon.
If you would like to find out more about this exciting new product release or arrange a demo and join the thousands of dental professionals who work smarter, work remotely and work securely with Dentally, simply visit our website or email us hello@dentally.co