All the information you need about a patient, is held in the patient record. Whether you are charting treatment, or sending referrals, or making notes about patient circumstances, Dentally makes it easy for you to access all the patient's information on-screen.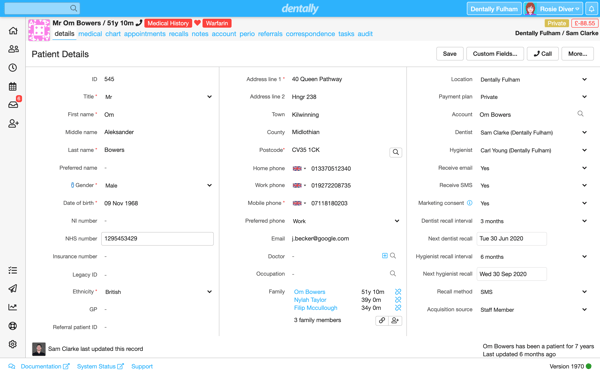 Patient Contact Details
You will want to communicate with your patients - recalls, reminders, etc - and so want to be assured that you have their up to date details. Reception staff can easily check and change details as can patients themselves, if you have access to Dentally's Patient Portal.
Staff can save time when registering a new patient by using the postcode lookup function. Simply type in the postcode and the house number, and select the correct address from the dropdown list.
When booking appointments or taking phone calls your busy staff will always want to ensure they are dealing with the correct patient and Dentally allows you to select and check the right person by looking for them using a variety of search criteria. You can use their name, date of birth and phone number. Dentally allows you to easily differentiate between patients with a similar name by showing relevant details in the search results, such as age and address, that you can use with a patient to confirm their identity.
Patients can specify whether they wish to be contacted by SMS or Email or both putting the patients firmly in control of how their information is used by your practice. In your bulk messages you can filter by patient correspondence preference and meet patient preference expectations.
Family groups

By adding in family members to a patient's record, you can make appointment booking easier for your reception staff. They simply select the group members from the list saving them time, and making trips to the dentist easier for patients.
Recall intervals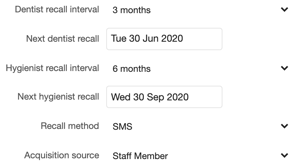 We know how important recall appointments are to your practice and your patient's oral health, so we keep a record of each patient's recall intervals and their next recall due date on the patient details screen so that reception staff can see if a routine appointment is due when a patient contacts the practice and can make the appropriate arrangements. At the end of a course of treatment the practitioner updates the recall dates and these are immediately updated in the patient record so that by the time the patient has arrived back in Reception, staff can make an appointment to ensure the patient's oral health is maintained.
Information at a glance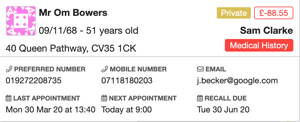 At Dentally, we understand that you are busy and so we have made it easy to see a patient's status at a glance. In addition to their name and preferred name and age, you can see medical alerts, appointment prevention, whether the patient has not attended for some time, payment plan, account status and registered practitioners.
More detailed information is available from the tabs at the top of each patient record, saving time - no more searching for associated records - and giving you peace of mind that you know all you need to about the patient.
To ensure information is transmitted between surgery and reception, you can, of course, use the Chat function, but for more permanent notes, to remind you of information 9non-clinical notes, reminders or comments) from one appointment to the next, use Dentally's patient notes, which pop up when you open a patient's record. Just one more way in which Dentally keeps your patient information at a glance and easy for you to access, saving you time.
All information readily available at your fingertips
The patient record in Dentally contains all the linked information you would expect from practice-oriented software.
At your fingertips you have access to the patient's financial records, if they NHS any exemptions they have recorded, any referrals, and an audit trail - accessible to those with the correct permission levels - to keep a track of all actions recorded against that patient.


If you want more information about how you can manage your patient record in Dentally, talk to us at hello@dentally.co