Dentally offers a fully integrated and simple clinical workflow designed to save you time. This workflow allows third party integrations, providing a seamless, easy to use, end-to-end experience.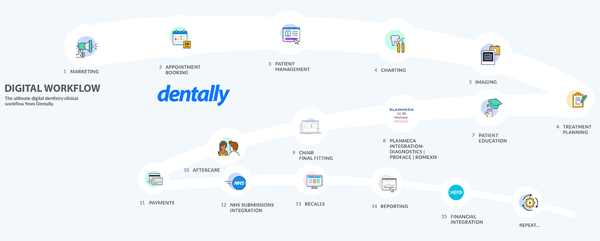 MARKETING Dentally, contains tools to help you promote and market your business. Query your database with your patient management software, create mailing lists and reports. You can also integrate with third party tools – including email marketing platforms.
APPOINTMENTS Integrate seamlessly with dentr - an online appointment booking app for Dentally. Let your patient's book 24/7 from your own website.
PATIENT MANAGEMENT Dentally allows you to check in patients, whilst in the waiting room. With its iPad app, you can then update medical history forms and gain treatment consent.
CHARTING is straightforward with Dentally. You can customise your chart and use treatment plan templates to record a baseline and complete BPEs and periodontal reports.
IMAGING Dentally can work and integrate with a number of tools to help you acquire and manage clinical images from X-ray scanners, cameras and other image acquisition devices.
TREATMENT PLANNING Dentally delivers easy to use, visually engaging, and pleasing graphic reports of treatment and financial costs, making conversations with patients efficient and smoother.
EDUCATION Help educate your patients with information about their treatments.
DIAGNOSTICS Integrate with platforms like the Planmeca 2D and 3D diagnostic applications for low dose imagery direct into your workflow, making diagnosis simpler.
PROFACE is a valuable tool as part of the treatment planning discussions with your patient. It allows your patients to see pre- and post-op images during consultations.
ROMEXIS provides a powerful design tool directly into your workflow, allowing you to easily connect with other specialists and dental labs.
FINAL FITTING Get all of your documents, surgical guides, imagery and patient details in one place and at one time ready for final fitting – seamlessly and with less hassle.
AFTERCARE Dentally can also help manage the aftercare appointment setting.
PAYMENTS Payments are straightforward with Dentally. Patients can also purchase add-ons and additional sundries to complete the patient experience.
CLAIMS SUBMISSIONS to the NHS, NHS Ortho and NHS Scotland are much faster with Dentally, meaning you can stay on top of your claims. Simply complete the forms electronically and submit directly from the patient chart. The claim status is returned within 24 hours, and status updates make solving issues straightforward. Track progress and analyse claims by status and practitioner.
RECALLS In Dentally, your recalls are generated weekly and given a status automatically. Get easy to use reports to let you manage and act as required based on when patient visits are due.
REPORTING is essential, so that you can keep a track of all your practice statistics with easy to understand and digest reports in an instant. Dentally allows you to report smarter, so you can take action and make the right decisions for your business.
FINANCIAL MANAGEMENT is a critical part of your workflow. Integrations with platforms including Xero, allow you to keep track of your practice finances, by seamlessly linking your takings to your accounts.
For more information about the digital workflow and how Dentally integrations work, please visit our website or email hello@dentally.co