Dentally is the UK's leading cloud practice management software, designed in collaboration with dentists across the UK. Dentally allows you to work from anywhere, streamline your practice and free up valuable time.
Dentally offers you fast and simple practice management, allowing you to work smarter, securely and remotely.
The Dentally story started in 2011 with Nick and James founding it originally as small business IT support across multiple industries, including dental. After a few years of extensive research into exactly what dentists want (and needed) from their dental system, establishing a gap between dentists' needs and what they are provided with, our product Dentally was launched in early 2014. Today, dental professionals are using Dentally, across the UK and worldwide including Australia, and many regions globally.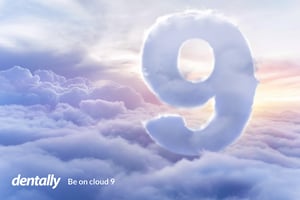 Dental practitioners are taking advantage of the power of cloud technology to make their lives easier. Dentally software allows dentists to see patients during surgery hours and then head home as the last patient leaves the practice to spend precious time with family or friends - they can then login securely at a time that suits them to finish off any notes or admin. Why not read more here?
There are a number of reasons why Dentally can simplify your practice management (and life!), here are just nine:
Cloud-based - work where it suits you

Saves money on IT setup, admin, and maintenance

Data is secure

Easy to use

Saves time using task automation

Integrates seamlessly with other software

Streamlined reporting

Support you can rely on

Trusted by thousands of dental professionals
Moving your dental practice to the cloud provides many benefits which are not provided with the older, server-based solutions. Some of the most widely enjoyed ones are detailed in this article, so do please read on...
Work where it suits you
With Dentally or any other cloud-based dental software you can access your information from any location. All you need is a computer and internet access. This means no more late nights in order to work on your accounts and admin, you can balance your work life around the rest of your life. You get the same performance from within the surgery as you do from outside it. Giving you more time to focus on your patients and the other aspects of your life that matter to you. Read our blog 'Reclaim your time' to find out more.
Saves money on IT setup, admin, and maintenance
No need for a expensive server
The days of needing to run an expensive and power-hungry dedicated server are over. In a cloud-based dental software system it is our remote servers that are taking the brunt of the work instead. This means there is no need to spend a four figure sum of money on a top-of-the-range server to sit in your cupboard or storeroom in the dental practice.
In turn, being cloud-based means less stress on your in-surgery computers, so you can use less expensive machines around the practice as well, reducing your hardware investment. You can also find more information here.
If you already have a server, you can still get great use out of it for other things, but when you come to replacing it, you can simply replace it with a normal PC instead. Or if it is a dedicated machine (exists purely for your data and other PC's), you can just throw it out when it is no longer working. Data you wish to store such as radiographs and files can be shared across the practice machines' hard-drives instead. We also give you online storage space to gain access to your uploaded documents / radiographs from anywhere.
Access from anywhere with no need to network the practice
As Dentally is light to run over the internet, some practices choose to avoid wiring cable throughout the whole building.
Cabling the practice does provide benefits, such as file sharing between machines, and providing a wired connection to the internet which is more stable, however, for new practices looking to get off the ground and build their business, this is another expense which can be saved. Longer term we recommend the practice is cabled for the above reasons, it can just be one less thing to worry about initially.
As a true cloud-based solution, Dentally's internet requirements are are low as 1mbs download (very slow by today's modern digital standards). This means that you can gain access to the system with full performance from wherever you are. Whether inside the practice or outside of it. This extra freedom doesn't compromise security, as you can limit access for staff between certain times, limit access to only certain IP addresses as well as plenty more security features such as 2 factor authentication. We will talk more about security later.
This means that Dentally meets and exceeds all requirements from the CQC, when it comes to keeping data safe.
Freedom to choose your operating system
Being cloud-based means you can choose your machine and your operating system. Want to use Windows 10? No problem. Oh, you like Apple and want to use a Mac? Sounds great, just plug it in. If there is split opinion in the practice, each person can use their personal preference and still get the same great performance.
Our hardware requirements are also tiny, so if keeping costs down is a priority you can save significantly here. Cloud-based dental software works for your practice and preferences, rather than the other way around. We have detailed more information on our system requirements in our Support area.
Updates are simple
As a cloud-based solution, a Windows / MAC update does not interact with Dentally at all. This means you will never come across unexpected issues when you update your server, or find yourself locked out of your system while an update kicks in.
Dentally release updates without any disruption to you. Lots of micro-updates mean that the systems landscape never changes too dramatically in a short period of time, leading to a simple progression of features and functionality. To install the most recent version, all a user has to do is refresh their browser. No downtime, no restarting PC's or servers, so less messing about - updates are simple
Practice hardware becomes easily replaceable
The most common cause of data loss to dental practices is hardware failure, while the second most common is data theft. If your dental software is cloud-based, your machines do not hold your data, so your machines become easily replaceable.
Many dental practices look at dropping expensive hardware maintenance when switching to Dentally. This is because if a machine fails, the replacement can be at the practice straight from an online retailer one day later. It also means there is no charge to install Dentally on the new PC, as you do not need to install Dentally at all - instead just run from any device which has Google Chrome installed.
Managed and tested data backups as standard
No more rotating external hard-drives or data tapes. Cloud-based software is backed up automatically multiple times a day. We also test the backups for you too. This means that you never have to worry about managing your data, or take the time out of your day to do so ever again.
What happens if I lose internet?
One of the most common questions we are asked, is that if the practice is not relying on a server to run the dental system, what happens when the internet drops?
In the rare case that you lose your connection to the internet in your practice, the great news is that it is still very simple to use Dentally.
One of the most common ways to overcome this is to set your phone up as a data hotspot (settings > connections > mobile hotspot and tethering on an Android). This uses your 3G / 4G data connection, and means your mobile phone emits a WiFi signal for your devices to connect to. You can connect to this WiFi on your PC and off you go.
If you've never done this before, in essence what it means is that your phone omits a WiFi signal through 3G/4G and you will be able to connect your laptop or computer to the internet through your mobile. Most phones come with the ability to hotspot these days but you might want to check that your providers allow you to do it. Similar results can be achieved with a USB data dongle available from any network provider and as a 'pay as you go' plan for an emergency back up.
Of course, if the hot spot option doesn't give you the peace of mind you need, you could look at having a backup router. A backup router can be wired or wireless but the basics of what happens is that if your main router loses access to the internet and stops broadcasting, then the backup router receives a signal that internet is no longer broadcasting and instantly starts it's own signal.
This happens so quickly that the user rarely even notices that something has gone wrong. A wireless router, runs off a Sim card that you insert into the router and will starts up if your main router goes down.
Of course you can still use the system in its entirety from home, or anywhere else you happen to be with a WiFi connection! So this means that even if all electricity is out at the practice, your equipment won't work but at least you can use a battery powered device to run your patient management software.
Data is fully secure
Security is at the heart of cloud computing and far safer than a server locked in the practice storeroom. We take a wide variety of measures to give you increased flexibility and enhanced security.
Two main causes of data loss are hardware failure and hardware theft. With Dentally (and any cloud-based solution for that matter) you are completely protected from both. It is our role as IT professionals to protect your data as part of the service, so you have less to worry about regarding the IT infrastructure. Instead of the windows, door and lock protecting your data on the server, we are talking about some of the best engineers in the world, with 24/7 protection, implementing the most modern and state-of-the-art protection possible. More information about security can be found here.
Easy to use
Ease of use is something that is part of the Dentally ethos. We want our customers to enjoy using the software, to learn how to use it confidently and quickly - so they can be productive in their everyday roles within the practice. But don't just take our word for it, take a look here to learn more about its simple design and user-friendly interface.
Save time with task automation
Choosing the right practice management software is essential in simplifying the way day to day work is carried out and ensuring a fantastic end to end experience for your patients. You should select a tool that has been built with ease of use and time saving functions at its core. Dentally, has been developed with customer feedback and cloud technology at its heart, to provide a time-saving solution to every day patient management. Learn more.
Integrates seamlessly with other software
Cloud-based technologies are now offering dentists a way to integrate the software they need to run a successful practice, allowing them optimise their time with the patient in the chair and delivering a number of positive outcomes. Seamlessly linking practice management software with a number of platforms means end to end clinical and practice workflows can be established. If you are interested in integration and some useful tools, take a look at our article here.
Support you can rely on
Support you can count on provides a healthy environment for your dental practice to thrive, as it would with any business. Responsive support is what we do, whether we are looking after new or existing customers, large or small dental practices. Customers can call us or send us a message within the Dentally software, and one of our fully remote based Customer Success team will be on hand to answer queries quickly - they all know Dentally inside and out, so they have the knowledge and tools to help customers get the best out of the software and answer their queries. Read more here.
In Summary
So there you go! Hopefully this article has helped answer several of your questions. If Dentally sounds like what your business is missing, then we would recommend that you take a look at the software for yourself.
Request a demo - As a fully remote based company, we provide more online demonstrations than face to face, although both are an option. Please feel free to get in contact with any questions you may have, as we can provide you with more personally tailored information in line with the requirements for your business.
Access our sandbox - Something which can also help - we can also set you loose with a 'fake' dental practice, populated with test patients and appointments too. This is known as our sandbox account, and is so you can explore the system at your leisure, without consequences and before making your decision.
Get in touch - We're more than happy to have a chat! Email hello@dentally.co with details of your practice and what you need from us, in order to find out more.