Dentally Appointment booking allows the patient journey to be fast and fluid, with all departments working in harmony, ensuring a seamless experience for patients and staff.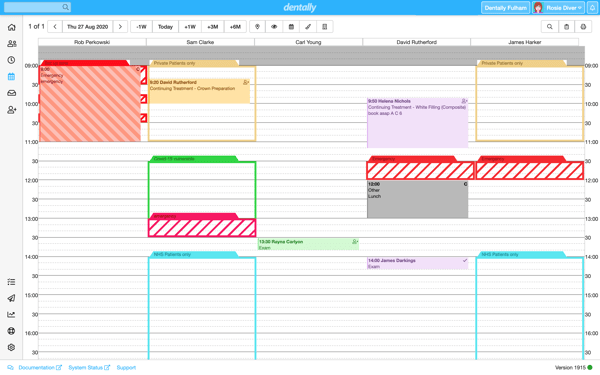 At a glance
With Dentally, you are in control of how you view your calendar.
Reception staff might prefer to see multiple practitioners, and use colour and sessions, for each practitioner, making check ins and appointment booking easy.
Individual practitioners may prefer to use the list view to see only their patients and more details about each appointment.
Managing appointments
Typically an appointment in the Calendar would follow a few simple steps from booking to arriving in the practice. You are in control of how this flows every step of the way, from deciding when and how to send confirmation and reminder messages, to alerting the practitioner that their patient is in the waiting room using Chat or simply allowing them to see the Waiting Room notifications.
Using Dentally the practitioner is kept informed all through the process.
Appointment reasons
To make appointment booking easy for Reception staff, you can pre-populate appointment reasons in your settings, so that they simply select a reason from a drop-down list. Staff can also group appointments by reason in sessions allowing you to control, for example, when emergency appointments or recall appointments are available.
Appointment Reasons are also important for triggering recalls automatically so that's one less thing for you to worry about.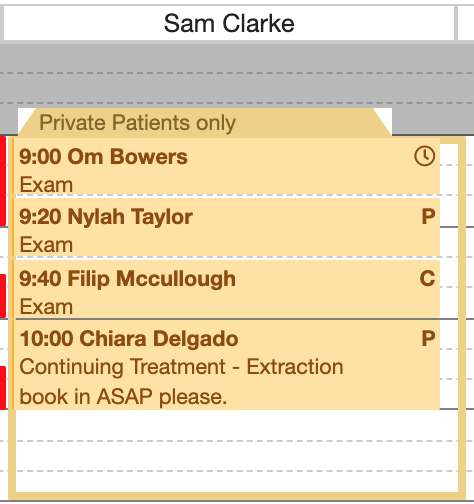 Appointment status
Use the appointment status to quickly see whether patients have confirmed their appointments, and therefore, whether they need an additional reminder.
Some cancellations and patients failing to attend are inevitable. Dentally makes it easy for you to change appointment status to cancelled or failed to attend, and allows you to set up cancellation reasons which you can then report upon. This allows you to see patterns of non-attendance and put appropriate measures in place. Use the appointment status to ensure that your appointment book is as busy as possible.
If there are reasons for doing so, you can prevent individual patients from booking appointments, by setting a flag on their account, again keeping you in control of your appointment book.
Patient details
Reception staff can easily and quickly select the correct patient for the appointment booking, choosing to use the method that suits them, from using the patient's appointment tab, or selecting them from the last patient icon on the appointment. Dentally's choice of selecting patients means that staff always select the right patient for the appointment.
Print the daylist
While you can always see a live list of patients who are due into your surgery during the day, on your computer screen, Dentally understands that many practices like to have a printed list and this is a simple process from the Calendar. You are in control of your daylist print options. If you need to contact patients from the daylist, you can easily find their details and again, keep your appointment book as full as possible.
If you would like to find out more, talk to our team today hello@dentally.co