We are delighted to announce some exciting new product news! We have introduced the ability make telephone calls from within Dentally.
This new feature means that outbound telephone calling is now fully integrated within the software, allowing you to make phone calls directly from the patient record. While dental practices are working remotely, this new feature will mean that staff members can use their computer securely logged into Dentally to make all outbound calls. Returning messages or cancelling future appointments can all be done through the software, and so staff won't incur costs for their phone usage at home.
As you would expect from the Dentally team it is simple to use. The calls that you make can use the practice telephone number as the caller ID or another number you have access to.
Once enabled by the Dentally team - a 'CALL' button will appear on all patient records. You click on the button which then brings up a drop down menu asking you to select which of the patient's phone numbers you wish to call (mobile or landline) and asking you to select the call ID you wish to call from. You then place the call through the Dentally software on your computer.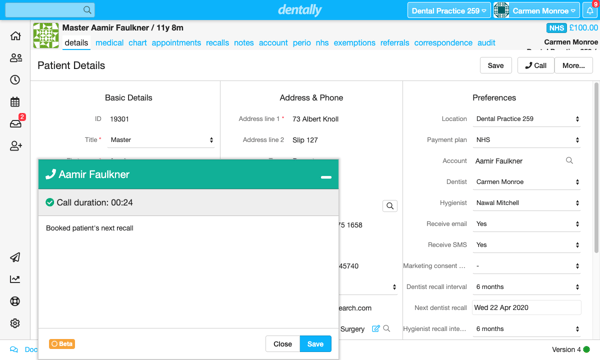 Once the call is completed you can hang up the call with the relevant button. During the call you can write any notes about the conversation you have had and click save at the end. All of the details including the notes are then logged in the patient's correspondence tab in Dentally for future reference.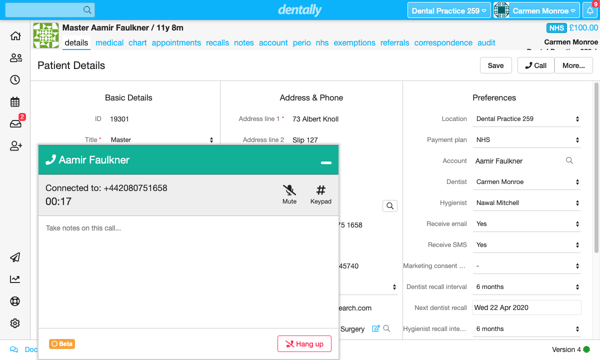 The new feature is available free of charge to all Dentally customers during the Covid-19 crisis as part of our commitment to supporting dentists in these difficult times based on a fair usage basis.
If you would like to set this up, simply speak to our support team today or email help@dentally.co All the information you need as to how to use this new feature in Dentally can be found in our Support area here.