Our latest product update is yet another time-saving function that will ensure tasks and patient follow-up is completed and not forgotten during the busy day-to-day running of a dental practice.
Dentally's exciting new feature means that dental practitioners and their staff can easily track and undertake tasks including calls, correspondence and any other patient admin - whether daily, monthly, yearly or even periodically, and ensure they are completed in a timely manner.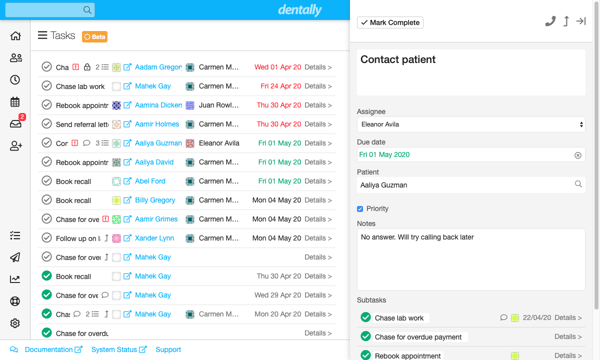 This functionality within the software will not only save you time managing workloads, but supports your staff in helping them to carry out important tasks in line with their due date - improving your patient communication and practice management.
In addition, it complements the new outbound telephone calling feature which is now fully integrated within the software, allowing you to make phone calls directly from the patient record or from the task that has been created.
How does it work?
A task can be created for any patient.
Tasks can be assigned to any member of staff.
A due date can be assigned and it can be marked as a priority.
Notes can be added for the team member to record any details. For example; No answer and will try calling again later.
Sub tasks can also be added if there is more than one task that needs to be completed.
There is a simple 'CALL' button so you can call directly from the patient record using our new outbound call functionality.
You can search for specific tasks using filters - so for example you could search for tasks by their due date or member of staff.
Tasks can be duplicated easily.
If the task is something that needs to be repeated you can set it to repeat on a schedule of your choice.
Tasks can be made private so only you seem them.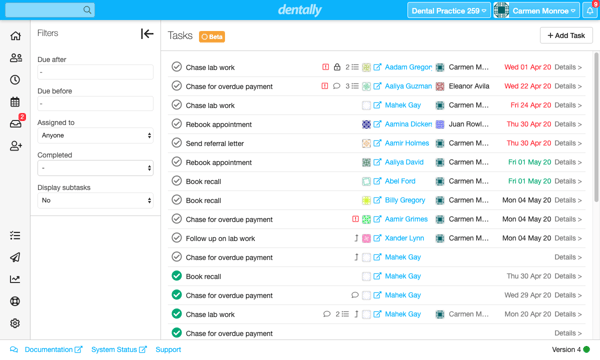 This new innovation has been developed following feedback from our customers and is in line with our commitment to make dentists' lives easier through cloud technology innovation. For further details on how this new feature works, take a look at our helpful step by step support guide.
If you would like to find out more about this exciting product release or arrange a demo and join the 7,000 dental professionals who work smarter, work remotely and work securely with Dentally, simply visit our website or email us hello@dentally.co