Taking the step to become a practice owner, whether you are purchasing an existing dental practice or opening a completely new site requires careful planning to build a thriving business.
Now is a great time to take the leap to become a business owner, with finance to support new businesses available and some existing practice owners looking to take early retirement.
It is an exciting time to be a new business owner. The technological landscape has changed. and we see that in many ways, including the willingness of the general public to embrace technology throughout the last 12 months.
The list of tasks to get your practice up and running under new management or negotiating building work to open a brand new site is endless. You will of course be thinking about everything from utilities, investing in equipment for the surgery, reception area, signage, staff recruitment and marketing to encourage patients to book in. And on top of all these, you will be considering how best to manage your patient care and data, compliance and workflows. In short, your practice management software. It is important to take a close look at the tools and workflow for your practice and the benefits offered by the practice management software that you intend to use to make sure it will work for your practice now and allow you to adapt in the future.
A flexible solution
Leveraging the power of cloud technology to make dentists lives easier is at the heart of the Dentally ethos - and its cloud-based practice management software solution can transform your dental practice and allow you to adapt to the challenges that may arise in the future. Whether it is the ongoing and far-reaching repercussions of the COVID-19 pandemic or other factors, you need a solution that allows you to provide care and attention to your patients and the agility to adapt to whatever the world throws at us!
The team at Dentally understands that you need much more than a system that allows you to make appointments and record your patients' clinical charting.
With Dentally's cloud-enabled solution, thousands of dental practitioners are leveraging the power of our solution to effectively run all aspects of their business and deliver exceptional patient care safely through a seamless digital journey.
Dental software from Dentally allows you to be more flexible in your approach to the business of dentistry, providing telephone triage, allowing patients to manage their own journey with your practice and book online, running safe contactless reception areas and easily managing staff (whether they are onsite or working remotely). It can also help you by automating patient communications, charting, managing NHS contracts and reporting on every aspect of your practice (in real-time), so practitioners are always ahead of the game when it comes to patient care, marketing and finances. All of which are vital to building a thriving sustainable practice.
More and more people are using cloud technology in their everyday lives whether they realise it or not, from staying connected with loved ones, ordering food, streaming entertainment, storing photography and more - so take a closer look at how the cloud really can change the way you run your dental practice making for an all-round easier, more agile and effective solution - and all you need is an internet connection.
If in the past, you have always used a server-based or a paper-based practice management system, then it is useful to also know that you don't need a large amount of data or expensive high specification IT or hardware to run Dentally.
Internet accessibility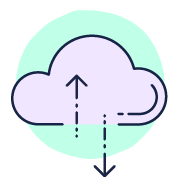 Because Dentally is cloud-based, all you need is an internet connection and a Chrome web browser - you don't need an expensive power-hungry server. It can be run on unlimited computers and is compatible with multiple operating systems. If for some reason, you lose your internet connection, you can use a data hotspot on your mobile phone using a 3G/4G data connection or set up a backup router with a SIM card. Cloud-enabled technology means that you can always be connected and working to provide the best for your patients. Read more.
Software updates
Refreshing your browser is all it takes to benefit from daily updates. You don't have to worry about rotating data discs or backups or if there is an update to the system or even NHS fees - this just takes place automatically throughout the day without any disruption. No restarts or downtime required - one more thing that Dentally takes care of for you.
Data security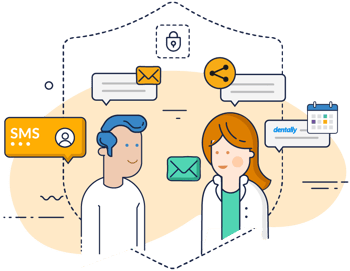 Another key consideration of course for any new practice owner is ensuring the security of their sensitive patient records. Using cloud-based software data is much safer than hosting it on a local computer or server in a cupboard. At Dentally we not only encrypt your information within our platform, we also ensure that your users are logging in securely using our privacy features to give you complete peace of mind. Find details of our user security features here and read more about our platform security.
Staffing
Staff factors will also be high on your agenda, whether you are looking to recruit new team members or train existing staff members that you plan to retain. So choosing a system that has a simple user interface will also be important, as well as the onboarding process itself. Switching to any system will of course mean that employees may be nervous - but, at Dentally, we use a collaborative approach to alleviate any fears that your team have, working with them to help them understand the new software, learn it and embrace it - so they can get the best of the system for themselves and for the practice as a whole. Training can be safely delivered remotely or on-site and is provided in a manner that will work for all skill levels within your practice.
Support is responsive and is delivered by a dedicated team through an easy to use chat system backed by an extensive knowledge hub of tutorial guides. Read about our easy onboarding and support team.
If you have staff working remotely then you can keep them focused on admin and patient communication as they can securely login into Dentally to carry on with their daily role as normal. Keep your practice running smoothly and team whether they are working onsite or remotely connected with a number of useful tools such as Tasks list, integrated outbound telephone calling and Dentally Chat.
Integrate and organise
Another area you might also like to consider as part of that seamless digital journey is the integration with third-party platforms. Dentally's API allows you to securely integrate your patient management software with a number of third party solutions to create an end-to-end clinical and practice workflow to save you time and resources. Whether you are looking to connect your web apps, market your business or connect your accounting software, you will find integrated tools work seamlessly with Dentally to ensure you are running the practice processes that work for your needs. Learn more.
Build the practice you want
Dentally understands that you have a million and one things to do, and our team is here to help you now and in the future. As a new business owner you need solutions that are cost effective and easy to get going from day one - so you can get your practice up and running. Our software allows you to manage all the extra hours setting up from home to ensure you are not tied to the site.
Dentally supports your practice at every step, from developing loyal patient relationships with our effortless contactless patient journey, managing all your admin, automating patient communications, running your private and NHS work effectively, reporting with powerful real-time data insights for every element of your business, easy to use clinical charting and much more.
Take a tour of Dentally today. Email us hello@dentally.co