This week we look at appointment reminders. We all know how busy day to day life is, so reminding your patients with an email or SMS message about an appointment is a useful way of creating strong patient relationships whilst reducing the number of failed appointments in your practice without your staff having to spend precious time on the phone. Learn more here.
In Dentally, reminders can be done manually or automatically, but we do recommend automating this process as it really reduces the amount of staff time needed to chase up patients and remind them about their next visit.
Why would you use automatic appointment reminders?
Dentally's appointment reminders save you so much time. Patients receiving a text confirm they are attending by replying "YES" and their status changes in Dentally to Confirmed.
If every appointment in your book needed your reception team to remind patients about their appointment and simply confirm that they are going to attend, took 3 minutes, how much time is that using?
Using the appointment reminders, all your reception team now need to check are those who haven't confirmed within 24 or 48 hours. Not only does this save you time, but it also means that your Reception team focus their attention on those patients who perhaps need a little nudge to prioritise their oral health. Our standard appointment reminders are simple and easy, find out more about them here.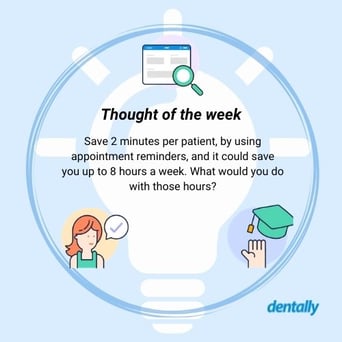 Want to save even more time?
Here are two ways that you can use Dentally's automatic communications to help save even more time, in relation to appointment reminders.
1 - As soon as a patient's appointment status changes to "Confirmed", immediately send a link to complete a medical history questionnaire.
2 - If an appointment is confirmed, 24 hours before the appointment, send a text or email reminding patients of the COVID secure rules and processes.
If you want to know more about setting up and using automatic appointment reminders, take a look at our support document here or contact our Support Team at hello@dentally.co who'll be able to talk you through it.