Setting up a new dental practice can seem daunting especially when it comes to forming a new patient base. As a dental practitioner, you will understandably want to ensure that all of your new patients are welcomed and informed about your practice from the start for your new business to succeed. That's why Dentally focuses on making the process of creating a new patient base as simple and easy as possible - so that your patients are empowered by their experience and journey with you.
With the rise in existing practice owners looking to take early retirement, it's no surprise many people are taking the leap and becoming new business owners. Building a successful new patient base will set you in good stead for your practice's future success. Leveraging Dentally's cloud technology allows for you to truly streamline the process generating demand and communicating with patients, as well as taking care of all your practice management admin.
Onboarding process
A key element of any new practice is creating demand from existing patients if the practice was already established before you became the owner or for attracting new patients and helping to get them signed up quickly. A practice with no patients is no practice at all. With Dentally you can be confident that your new patients will experience a seamless experience as they sign up to your practice, throughout their treatment and beyond, which in turn develops loyalty and referrals.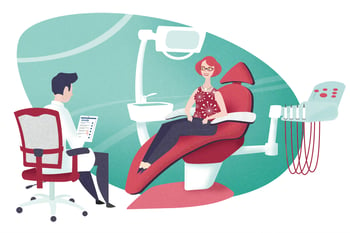 With automation in Dentally, you can create a sequence. Simply add the details of your new patient, find out their preferred method of communication and set it to be specifically triggered for 'New patient exam' or similar style appointment reasons so it can therefore send new patient-specific correspondence, such as 'Welcome to the Practice' info and other relevant marketing and updates tailored to your practice. From there put a workflow in place that will remind patients about appointments, send out recalls and provide any marketing messages you require.
Automated reminders not only benefit your patients but also your practice as you will have a full calendar and be as efficiently busy as possible.
First impressions count! So show you nurture your patients with clear communication, and start building a positive reputation - growing your customer base and increasing revenue and/or positive reviews. With Dentally you can rest easy knowing that with minimal effort and time from you your patients feel valued and likely to recommend your practice to the wider community.
Click here to read more about automated patient communications within Dentally.
Patient Report
Reporting is a fundamental element of Dentally. We want to ensure that you have all the data that you need in just a few seconds - so you can be sure your practice is running successfully without taking time out of your busy day. Our powerful patient report allows you to filter by a wide variety of variables and provides you with incredibly useful real-time insights. It is also completely customisable so you can create and run reports on every piece of data you hold on a patient record, and then favourite your filters - so you can easily return to the report
A good idea when welcoming new patients into your practice is to find out how they heard about you. This can then be added to their patient details and from the patient report further down the line, you will be able to see where the majority of your new patients are being sourced from and the areas that you need to improve upon, allowing you to tailor your marketing and decide where to invest your marketing budget. For example, if most of your patients are coming from Groupon vouchers but very few are coming from Twitter sources then perhaps you need to focus a little more on your practices' social media promotion - to guarantee you are continuously growing your patient database.
The patient report also allows for you to generate a list of patients in a postcode catchment area so you know who to specifically target. This means you can rest assured that your practice is branching out and gradually growing business through new patient bases. As a successful practice owner, you want your calendar to be full and securing new patients is one of the best ways to guarantee this.
If more intricate details are what you're looking for then the Patient Report allows for you to see things such as 'spend to date' and planned treatment values as well as allowing you to identify people who have had their initial consultation and have nothing else booked as of yet.
It is worth noting that viewing your new patient details has never been easier with Dentally. From just your calendar you can see many important patient details such as payment plans, account balance, next recall dates and so much more by merely hovering over the patient's name on your Dentally calendar. Find out more about reporting in Dentally here.
Third-party integration
Integration of software and systems is another key element to the success of any business. Having a practice management system in place that enables you to integrate with other platforms is fundamental to creating a streamlined practice environment and thus increasing your new patient base.
Optimise time spent with your new patients by letting Dentally take care of the non-clinical tasks - ensuring that end to end workflows are created within your practice. Dentally can easily link to your imaging software. We have a large list of imaging bridges, so you can view a patient's clinical images from X-ray scanners, cameras and other image acquisition devices in one simple click.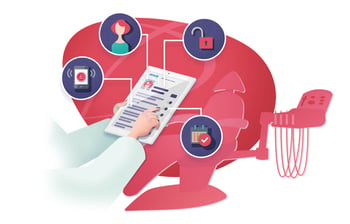 Stripe allows for you to take payments from your patients online, reducing time spent with non-clinical staff and minimising patients time spent in the practice overall - keeping your team and your patients safe in a time when a contactless patient journey is compulsory in gaining new patients.
Xero integration also enables you to improve your workflow when it comes to sales data providing an insight into your takings and practice accounts. It is simple and easy to set up the integration and at the end of each working day, Dentally will record all of the payments that have been taken within Dentally and generate an invoice in Xero. So you can see for yourself how your patient base growth is benefitting your practice's financial situation.
Create a flexible practice
Dentally understands that running a successful new practice and building a strong patient base is a time-consuming task. That's why we are here to make the process as simple and streamlined as possible. Dentally is as flexible as you are and we work hard to ensure that we are matching the needs of our customers. You need a cost-effective, time-saving solution that will help your patient base grow and your business succeed. Our software allows for you to access data from home so even on those long days you don't have to be tied to the surgery and instead can finish any last notes at home with a cup of tea.
Dentally is here at every step of your practice development and wants to ensure your new patient base will remain loyal and recommend your business to the wider community. We take on non-clinical admin tasks, automate your patient communications, integrate with your software and help with NHS claims along with so much more. Whilst our reports ensure you know exactly how your practice is performing.
Find out more information about how Dentally can help you expand on your new patient base by contacting us at hello@dentally.co now.