Our friends, Working Feedback, are offering Dentally customers an exclusive special offer of 50% off the set up fee - valid until 31st March 2020.
Working Feedback is a great solution for dental practices, who wish to generate reviews and strengthen patient loyalty. There is a seamless integration through Dentally, whereby patients will be asked for their feedback once the treatment has been completed. You can moderate all responses and then share reviews across multiple channels including Google, Facebook, Twitter and your own website. This service will even collect NHS' Friends & Family Test results for you.
Since the Working Feedback integration with Dentally was launched in Autumn 2019, a number of customers have seen some positive results which are are summarised below: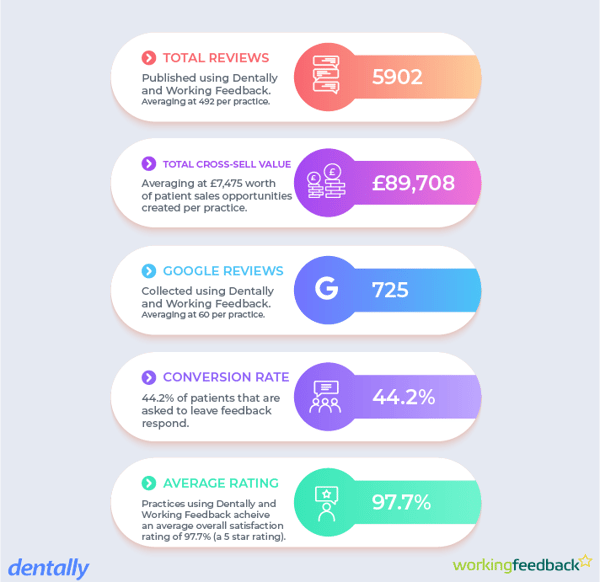 Integrating with Working Feedback is quick and easy to set up and will save time - as it automatically triggers a feedback request when the patient record is updated within Dentally.
Working Feedback is a tangible, cost-effective solution that helps with marketing, compliance and practice growth, just click here to find out more.
Exclusive 50% off special offer
Working Feedback is offering all Dentally customers a special 50% off set-up (a saving of £150 ex VAT). The offer is valid until 31st March 2020.
To arrange a free online demo visit the website or call on 0800 043 2100, and remember to quote: Dentally.