In the latest instalment of our meet the team series, we would like you to say hello to Ross.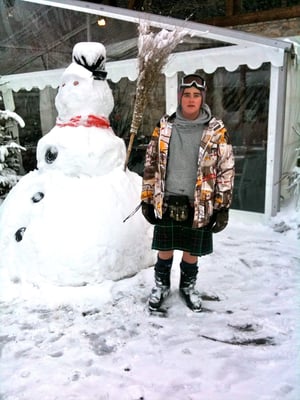 Full Name: James Ross Law Hepburn
Preferred Name: Ross
Role: Web Developer
What job title would you prefer to have:
King 👑
Are you a coffee or tea drinker?:
Neither, hot chocolate please
Ross has spent the last four years at Dentally, helping with the onboarding of new dental practices by bringing across their previous practice data on to Dentally. He also builds tools (as well as snowmen!) to help the onboarding team here at Dentally and develops new features for Dentally users. He's our Scottish golfer and a demon on the ski slopes!
Let's Chat
Background: Grew up in a wee place called Muckhart in Scotland and then moved to London 2013.
If you had to describe yourself in three words which would you use?:
friendly
open
honest
Best advice you have ever received?
Don't be afraid to ask for help or the dark
Dream dinner party guests?
Patrick Collison, Brady Haran, Dave Anthony and Ragnar Lothbrok
What would we find you doing outside of Dentally?:
Golfing, Skiing or in the pub with good friends
What is your claim to fame?
Scottish school ski champion
The best things in life...
...work as desired
I would never be seen without...
... my phone unfortunately
Tell us a random fact.
The world is actually flat. Only kidding. Tooth enamel is the hardest substance in the human body
What do you love about Dentally software?
No hassle maintenance.
If you have a question for Ross or anyone else in the team then please email us: hello@dentally.co