Our Support team is growing and we have recently been joined by two new members, so this week we return to our meet the team blog series. Firstly, we would like you to say hello to Paul.
Full Name: Paul Mellett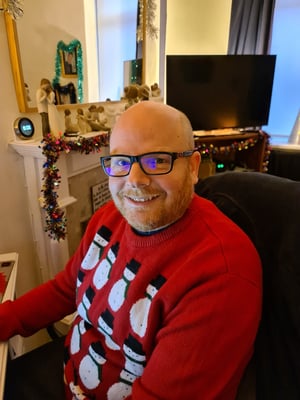 Preferred Name: Paul
Role: Customer Success Agent
Are you a coffee or tea drinker? Tea…..or Sugar Free Red Bull! (other energy drinks are available).
He would like to be known as the World' s most successful Sloth impersonator (from the Goonies), but we just call him Paul. With a training and customer support background, he has worked for companies including Microsoft, TomTom and Nokia, so is well placed to offer great support to our customers.
Let's Chat
Background:
If you had to describe yourself in three words which would you use?:
Bald
Geek
Sleepy
Best advice you have ever received?
Treat everyone as an idiot until proven otherwise.
Dream dinner party guests?
Dave Grohl and Freddie Mercury.
What would we find you doing outside of Dentally?
Walking the dog, at the beach with my family or sat in front of the TV or Xbox.
What is your claim to fame?
I have a couple but...Sir Bobby Robson proposed to my now wife on my behalf. He phoned her at work and she thought it was my Dad winding her up!
The best things in life...
...steak flavoured and rare.
I would never be seen without...
My mobile phone.
Tell us a random fact.
In Switzerland it is illegal to own just one guinea pig.
What do you love about Dentally software?
As the software is cloud-based, customers do not have to worry about installs, there are no issues with hardware and updates are handled at our side so customers are always up-to-date.
If you have a question for Paul or anyone else in the team then please email us: hello@dentally.co