Our team is growing, and we thought it would be great to introduce to some of our new members. This week, say hello to Simon.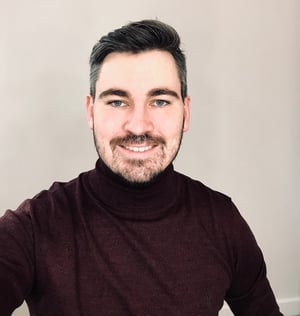 Full Name: Simon Mark Guiver
Role: Junior Product Manager
Tea or Coffee: Shamefully it's quantity over quality here - so whatever comes my way!
Simon is all about building brands that help make people enjoy a easier and better life. In his role at Dentally, he helps builds our Patient Portal products and features, and away from software...he is usually found cooking up a storm in the kitchen!
Let's chat…
If you had to describe yourself in three words which would you use?
1. Creative
2. Determined
3. Welcoming
What is the best advice you have ever received?
When cooking, always taste your food before you serve it. This has saved me many times!
Who are your dream dinner party guests?
I have an open door policy, so anybody with a willingness to eat and drink - and not necessarily in that order! Sometimes the unplanned events are the best ones.
What would we find you doing outside of Dentally?

Reading, walking my dogs, cycling but mainly cooking.
What is your claim to fame?

I had a remix track i produced appear on an American Radio DJ mixtape. I was also the fastest person in my military company to load a magazine and I once spent an evening dancing with a Pussycat Doll.
The best things in life
...the things you can easily take for granted and the things you've worked the hardest for.
I would never be seen without....

...some piece of technology.
Tell us a random fact
Elvis Presley's Manager sold 'I hate Elvis' badges as a way to make money from people who weren't buying Elvis merchandise!
And finally what do you love about Dentally?
As a cloud based platform, I love how that gives us agility as a team, allowing us to ship updates and features to our customers, often. Allowing dentists to give better treatment and experiences to their patients. Every single day.
If you have a question for Simon or would like to know more about Dentally, simply email us hello@dentally.co