Our team is growing, and we thought it would be great to introduce to some of our new members. This week, say hello to Nick B.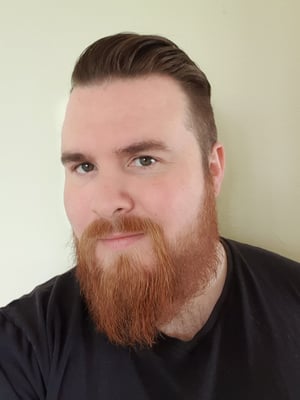 Full Name: Nick B
Role: Trainer
Tea or Coffee: Both, whatever I am offered.
Nick is always busy and dreams of one day becoming a Jedi Knight! On a normal day he provides training on how to use Dentally to our customers.
Let's chat…
If you had to describe yourself in three words which would you use?
1. Approachable
2. Confident
3. Devil-May-Care
What is the best advice you have ever received?
From my Uncle (in a thick American accent)...If you want it...BUY IT!
Who are your dream dinner party guests?
Elon Musk, George Lucas and my wife.
What would we find you doing outside of Dentally?

Probably building something! I like having lots of projects. I am currently in the process of refurbishing a hot tub, building a pergola and putting in an elaborate ambient lighting system for my TV..among other things.
What is your claim to fame?

I am completely unique, like everyone else.
The best things in life
...edible.
I would never be seen without....

...your eyes!
Tell us a random fact
The Japanese word 'Kuchi Zamishi' is the act of eating when you are not hungry, but because your mouth is lonely.
And finally what do you love about Dentally?
The simplicity of it. It is clean, tidy and everything is where it should be logically.
If you have a question for Nick B or would like to know more about Dentally, simply email us hello@dentally.co