Our team is growing, and we thought it would be great to introduce to one of our new developers, Megan.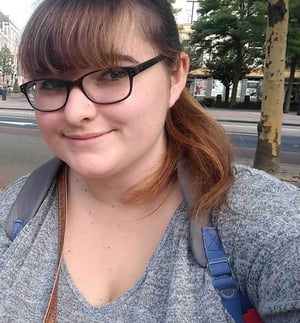 Full Name: Megan Ralph
Role: Developer
Preferred title: Prime Minister
Tea or Coffee: Green Tea
Megan is new to our team of developers, and she is looking forward to becoming a Dentally pro and developing new and existing features to make Dentally even more wonderful!! When she is not engineering software, she is practicing her Japanese.
Let's chat…
If you had to describe yourself in three words which would you use?
1. Friendly
2. Considerate
3. Nerdy
What is the best advice you have ever received?
Struggle but not too much!
Who are your dream dinner party guests?
RuPaul, Patrick Stewart, Ian McKellen and James May
What would we find you doing outside of Dentally?

Playing video games and pub nights!
What is your claim to fame?

I met Yukihiro Matsumoto (the creator of the Ruby programming language) and had the chance to practice my Japanese with him. It was awesome!
The best things in life
...free. The second best is expensive!
I would never be seen without....

My glasses, or I would never see!
Tell us a random fact
It is impossible to hum while holding your nose.
And finally what do you love about Dentally?
I love that every feature is designed and programmed with the end user in mind, this makes it very easy to navigate for newbies like myself.
If you have a question for Megan or would like to know more about Dentally, simply email us hello@dentally.co