Our team is growing, and we thought it would be great to introduce to some of our new members. This week, say hello to Al...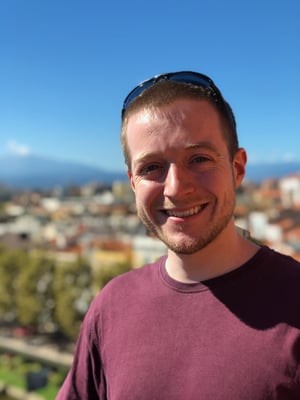 Full Name: Al Thomason
Role: Senior Full Stack Developer
Tea or Coffee: Both. Depends on what day it is and who is offering to make it.
Al, would love the job title; 'Chief Helicopter Pilot', but in daily life he uses his wealth of experience to help build new and useful features in our software. Building doesn't stop with Dentally, away from his desk he usually getting creative with wood or renovating his house, and can often be spotted hiking with his dog.
Let's chat…
If you had to describe yourself in three words which would you use?
1. Approachable
2. Enthusiastic
3. Reliable
What is the best advice you have ever received?
Don't dwell on criticism from someone you wouldn't take advice from.
Who are your dream dinner party guests?
Given the current pandemic and lockdown, I'd take a dinner party with friends over any famous or historic person right now.
What would we find you doing outside of Dentally?

Building things out of wood, fixing up the house, hiking with the dog or cooking with/for friends.
What is your claim to fame?

Thankfully none!
The best things in life
...are things that give you motivation and energy. Hobbies, activities with friends, even work can count -providing its something that you love doing.
I would never be seen without....

...access to the internet, unless I am on a plane.
Tell us a random fact
Panda's aren't actually Pandas, they are bears that share some features with the real panda (the red panda).
And finally what do you love about Dentally?
The software is clean and easy to use. In the world of specialist software, this is a very rare thing!
If you have a question for Al or would like to know more about Dentally, simply email us hello@dentally.co