As your practice slowly returns to some form of normality - footfall increases, chairs fill, and diaries become busy once more, you will, of course, be wishing to save money where possible. With so many missed appointments and patients in need of dental care, we know it is more important than ever for you as a practice to provide exceptional care to all patients, whilst reducing costs within your business and ensuring you are optimising all of your practice workflows.
From money spent on PPE and revenue lost through closures, restrictions and capacity limits, it is undeniable that the effects of COVID-19 have presented those in the dental industry with some of the most challenging times of their careers thus far. At Dentally, we want to ensure our customers know that ease of use, saving money and saving time are at the heart of all we do. With our cloud-enabled practice management software, we make running your practice simple, easy and cost-effective.
From automated workflows, customisable permission settings, detailed reports and remote working - Dentally's flexible toolkit means you can run the practice you want with just a little help from us.
Flexibility
The recent State of Dentistry report found that over 75% of dentists believe that technology can help them to establish greater flexibility in their work-life balance. Dentally aims to achieve that. With our cloud-enabled practice management, you can be sure that versatility is simple and easy to implement into your practice.
The beauty of the cloud is the agility it can provide your practice - you can work from anywhere, at any time, so long as you have a good internet connection and Google Chrome installed - Chrome and go! As a practice owner, we know you will want to remain in control of your practice and who can log in from outside of the practice doors. With Dentally, you can set specific server settings to ensure that only the domains you have enabled can access Dentally from remote locations if that is what you would rather. Security is a pivotal part of the software and Dentally ensures you have the correct tools to monitor who is logging in and from where your practice software goes without saying.
Work-life balance
The remote working of Dentally means that you and your team can save money on things outside of your control. After all, we all have lives outside of work, and sometimes things come up. Perhaps child care is a costly expense for you and your team - with Dentally's remote working, you can log off in time to collect your children from school and finish up any last minutes bits of paperwork at home.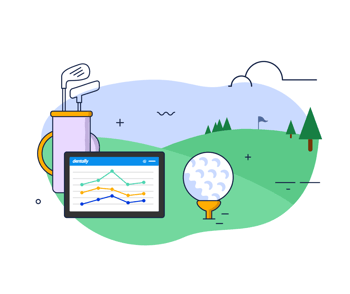 Childcare costs can also reduce once more, as your staff can still work from home if they choose to when their children or other relatives become sick and require them to remain at home. If circumstances allow, they can still log in remotely and complete any essential paperwork or outstanding tasks - saving you and your team money once again by ensuring that the practice remains up to date, patient communications remain in place and your practice continues to run efficiently.
Remote working and the versatility offered by it, help to improve you and your team's work-life balance. If your team feel they can prioritise both home lives and work lives accordingly, they will, in turn, be more likely to be happy at work. As a result, staff retention will increase, as will satisfaction - meaning you can build a dedicated team who are always willing to help your customers and are in the perfect place to provide the best possible patient care. Take care of your staff, and they will take care of your practice and its patients.
Outbound telephone calling
Telephone calls can be made directly with Dentally from the patient record. So, your team can call patients whether working in practice or remotely from home - keeping your patients connected and providing an efficient telephone triage system. The remote calling tool was utilised heavily during the COVID-19 pandemic when practice capacities were forced to reduce, and many staff were working from home.
Practices can continue to use this tool as we slowly return to normality, when some staff members need to work remotely, allowing them to complete outbound telephone calls and catch up on any callbacks without even having to be at the practice. Your patients and your staff can remain connected, your practice streamlined, efficient and providing the best possible patient care and customer service.
Dentally can help your practice save money, develop a better work-life balance for your team and provide the best patient care. Talk to our team today at hello@dentally.co to find out how the UK's leading cloud-enabled practice management software can change your practice for the better.