This week we continue our focus on creating a seamless, easy and simple experience for your practice's reception team. Reception teams are vital to the success of your practice - they help to relax anxious patients, aid those who cannot use digital technology to fill in forms and help to ensure practitioner's calendars are full. Not only this - they are the first and last people your patient's see and of course first impressions really do count.
In most cases, your patients will encounter your reception team before they even step foot in the practice. Whether that be through booking appointments or reminders sent out - your reception team need the best tools and systems in place to guarantee they're delivering the best customer service throughout your patient's entire journey with your practice. Dentally's easy to use cloud-enabled practice management software gives your team the platform to do exactly that and so much more.
Pre-arrival
Ensuring your patients are prepared for their appointment before they arrive at the practice is fundamental in guaranteeing that they have a smooth and enjoyable experience. Dentally's Patient Portal allows for your patients to complete any essential forms before arrival - this means that your reception team have less admin to do once your patients arrive at the practice and can instead focus their attention on creating the best patient experience possible.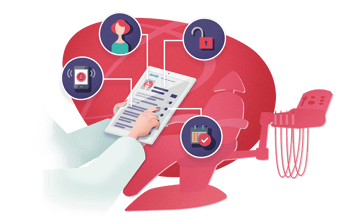 Dentally understands that communicating with your patients is of utmost importance in maintaining a successful practice. We want to aid your reception team in this process so that they don't have to spend any unnecessary time doing tasks that could be completed instead by our software. Our automated marketing messages mean your patients are kept up to date without having to come into the practice. These include recalls, reminders and emails all of which are sent directly to specifically targeted groups of patients. As COVID-19 restrictions begin to ease, the focus of you and your reception team will ultimately shift to ensuring that patients are not required to make unnecessary trips to the practice and Dentally's automated communications aid in the implementation of this target.
In the practice
Dentally's iPad app complements the time-saving abilities of the software upon your patient's arrival into the practice as any additional forms that may require attention can be completed whilst your patient waits for their scheduled appointment time on the iPad app. This will save time for your reception team as all they have to do is wipe down the iPad between uses - to keep everything safe and sanitised and they will no longer have to spend multiple minutes printing out hundreds of forms a day.
The waiting room module in Dentally is a big part of our software. It allows your reception team to mark patients as arrived for their appointments and advise the dental practitioner in surgery without having to physically leave their desk - once again saving them time to focus on your patients.
Some patients will probably want to purchase additional products whilst in the practice like toothpaste and brushes etc. Dentally makes the process of selling sundries easy and efficient and minimises the amount of time your reception team has to spend creating separate invoices to charge etc as each sundry can be added directly onto an existing invoice or if desired a new one can be created.
Departure
Just because a patient has left your surgery does not mean their departure from your practice is over. Their journey will continue until the patient next steps foot in the practice and this is again where your reception team's role is vital. Dentally can help ease the burden on your reception team through contactless payment links and automated patients comms which can be specifically tailored to your practice.
Ensuring your patients feel valued throughout their entire journey puts your practice strides ahead of your competitors. Dentally allows for your reception team to send the patient a secure SMS payment link keeping both them and your team safe and saving time for your staff. Payment links can be sent at a time tailored to your practice needs. Whether that be as soon as the individual patient leaves or in bulk at periodic times throughout the day. The choice is in your practice hands to maintain the time-saving scope for your reception team. The payment link is accessible across all devices, including iPhone, iPad, laptops etc.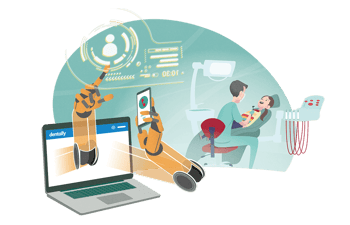 Automated patient communications are a necessity to the success of your practice. You want your patients to feel informed and valued whilst they're in the practice to ensure they remain loyal and keep coming back. These communications could ultimately become time-consuming for your reception teams.
Our easy to use automation tools allow you to maintain frequent contact with your patients with minimal effort from your team. Patients can be easily reminded of appointments, maintaining they keep and attending them and vice versa your practice can be easily notified by your patients if they can not attend their appointment so you can ensure you fill the gap in your calendar. Automate a variety of communications from appointment reminders, to payment links to requesting Google reviews or pre and post appointment advice.
Within Dentally you will find simple templates which can be used for setting up appointment reminders and confirmations - to ensure your comms follow your brand identity. Dentally understands that as a busy practice, there will be scenarios when you need to send a message to multiple patients. Dentally allows you to set up a bulk patient message, using filtered sections from Patients Report and templates, proofread and send them off. Once again saving reception teams time and keeping your patients informed.
Reception teams are a core element of every single dental practice. Making sure they feel valued and that their time is being well spent is vital in ensuring that they can provide the best customer service to your patients. As the first and last faces your patients see, putting actions in place to save your reception team time guarantees that their attention is on keeping your patients happy. Dentally can help you help your reception team with so many easy to use tools. Talk to our team today at hello@dentally.co to see how we can help your practice.