At Dentally we understand that you take an holistic approach to oral healthcare and that includes periodontal health and we make it easy for you to record and monitor this on a separate perio chart.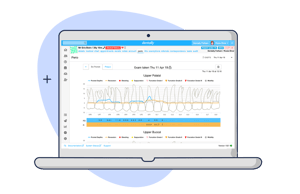 Dentally makes it easy for you to record the pocket depth and recession for each area of tooth, and is easy to chart readings in single or double figures. You can record the pocket dept, and recession, as well as furcation, bleeding and suppuration. Once you have recorded the Upper Palatal, you will be dropped to the Upper Buccal and so on.
Dentally's Perio charting gives you a good visualization of the patient's mouth allowing you to see at a glance how oral health has improved or changed over treatment time.
Take a look at our website to learn more.