Over the last twelve months, the challenges facing dental practitioners have been complex. A tragic global pandemic has created widespread repercussions for many people and dental practices have had to adapt to deliver patients exceptional care in different ways.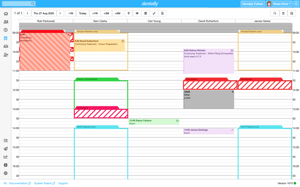 Financially many businesses have suffered, and are now looking to instil confidence among their patients to encourage them to return and receive much needed oral health care. Dental practices need to fill their appointment books again in line with the COVID-19 guidance, and of course measure, monitor and track this to optimise their NHS and private work to continue their patient centric approach.
Dentally's cloud enabled practice management solution can help boost your business, by using its tools as your hub to get your dental practice back at the forefront of your patients' minds and give them the confidence that you have all the processes in place for a seamless digital patient journey which minimises their non clinical staff contact and maximises the treatment and care they receive.
What steps can I undertake to optimise my appointment book?
Marketing to your patients

Running your recalls

Reviewing waiting lists

Reconnecting with lapsed patients

Tackle patients with outstanding debts

Taking action on unfinished treatment plans
Marketing to patients
You may wish to send out emails to your patients to advise them that your practice is open, tell them about new treatments you are going to offer and remind them of the importance of regular examinations for their oral health.
You can automate your communications and send out one off bulk or individual messages in line with the patient's GDPR consent and correspondence preferences using your practice branded customised templates to convey a variety of messages. Find out more here.
If you have been running specific marketing campaigns on social media or in your local press, it is of course important to monitor the success of this investment in terms of volume and value, and to see what is working and not working! Take a look at the Patients Report and our guide to tracking your new patients here.
Running your recalls
Another important method of encouraging your patients to return to practice and to fill your appointment book is using recalls. Set up a recall messaging workflow that will automate the process and send out either emails, SMS and posted letters at intervals. It is completely customised to your practice and the sequences can be easily managed so that you limit the messages that go out daily in line with your practice opening hours and staffing levels. To learn more, take a look at our support guide.
Reviewing waiting lists
With Dentally you manage multiple types of waiting lists, so you can easily fill cancelled appointments with priority patients, track lab work or manage those patients that need an appointment.
If you are planning to introduce a new type of service or have a new practitioner at the practice it is a useful tool to compile an initial target marketing list, to help you optimise your appointment book. Learn more.
Reconnect with lapsed patients
Identifying patients that have not had an appointment since a specified date can easily be done using the Lapsed Patient Report. Select the date you wish to see using the drop down calendar and you will create a list of patients who have not visited the practice since that particular date. You can also select patients for a certain practitioner, payment plan or if you have multiple sites, by location.
Once you have done this, you can export this list as a spreadsheet and then start contacting the patients, to encourage them to arrange an appointment. Take a look at the report.
Tackle patients with outstanding debts
Credit control is obviously critical for any business, and even more so during these challenging times. Identifying patients who are bad debtors, contacting them to remind them and chase their overdue payments is essential. Use the Patients Report and its multiple filters to create a list of patients that need to be followed up and then assign the task to a member of your team to action this. Learn more.
Taking action on unfinished treatment plans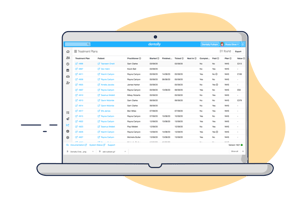 During the last 12 months, you may well have a number of patients who have yet to undertake a course of treatment or perhaps have unfinished work. The Treatment Plan report helps you identify patients with either unfinished treatments or unbooked appointments for planned and recommended treatments. Simply set your date parameters and the appointment status. More details as to how to use this report can be found here.
Once you have this information you could call them directly from the patient's record with Dentally's outbound telephone calling or send a letter, SMS or email.
Top priority
At Dentally we understand that your patients are your top priority, and so we have developed features to ensure that you can enhance your patient care in a variety of ways. To optimise your appointment book, speak to us today, chat to us in the app or email help@dentally.co and our support team will be happy to assist.
If you are new to Dentally, but keen to learn more then why not arrange a demo today. Email us hello@dentally.co