Dentally understands that each nation's health service has unique requirements, and ensures that those practices working with NHS Scotland have the correct exemptions and capitation codes they need.
NHS Scotland Exemptions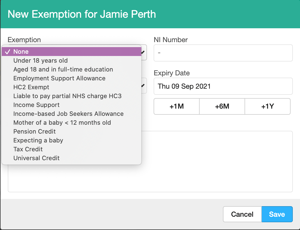 Dentally ensures that all NHS Scotland exemptions are always up to date and displays the correct exemptions from the drop-down lists, giving you total peace of mind that your exemptions list gives you exactly what is required.
As you click on an NHS patient's record all existing claims and exemptions are displayed in one place, making it easy for you to see their status.
Exemptions are easy to add from a single click on the NHS tab, and complete from drop down menus. Exemptions are permanently displayed on the tab bar of the patient's record screen so that you can see them immediately.
When you record an exemption, you also add an expiry date. When the exemption has expired, Dentally automatically shows this on the tab bar in red so that reception staff know to ask for a new exemption certificate, or to charge full price.
NHS Scotland Capitation
Dentally enables practitioners to receive the capitation fee for work they carry out on U18s registered at their practice. This is done via a special treatment code that sends the required information to the NHS.
To find out more about how Dentally supports NHS practices in Scotland, talk to us at hello@dentaly.co