As private revenue and patient numbers continue to rise, dentists are finding themselves completing more high-end and cosmetic dentistry now than ever before. Having a practice management software in place that can help you manage both private and NHS patients simultaneously whilst saving you time is imperative to the successful running of your business.
Over the last two years, dental practitioners have had to adapt multiple times to incredibly challenging conditions to provide vital patient care, juggling both private and NHS work and delivering it safely. Introducing cloud-enabled practice management software that saves you time and makes everyday admin easier means keeping track of your patients is effortless.
At Dentally, we understand you always need to provide the best patient care, and this is fundamental to the success of your practice. But, we also know that having the ability to entice private patients, looking for high-value treatments, benefits your business.
Dentally's cloud-enabled software is the perfect tool kit to increase your revenue whilst your patients remain at the forefront of all that you do - providing the best patient care possible at all times. With task automation, easy to use calendars, real-time reporting and automated marketing messages - with Dentally, you can expect an organised and efficient software that will help you get fully back on your feet.
Task Automation
Ease of use has always been and will continue to be at the heart of Dentally's ethos. Task automation is a prime example of how Dentally cloud-enabled software can help make your hectic life as a busy dental practitioner easier - reducing the time you and your staff spend completing tasks.
Time spent filling out paperwork and completing other mundane administrative tasks is frustrating and time-consuming. The time that your team devotes to completing paperwork could, with the help of Dentally, instead provide the best customer service or marketing your practice out to new patients - patients who may be looking for high-value cosmetic work.
Streamline the workflows within your business, especially those mundane daily tasks and watch your practice become as efficient as possible. Automated recalls allow your team to set up messages sent via email, SMS, telephone or post depending on your patient's preference at particular times of the day. Patients will get a set number of reminders at set intervals, so they never miss an appointment again. By keeping recalls up to date, you can be sure you're not missing out on any revenue - missed high-value treatments could cost your practice a lot of money.
Bulk messaging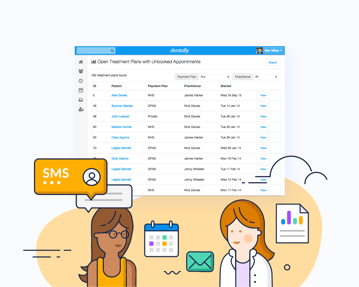 Much like task automation, bulk messages within Dentally help promote your practice to your existing patients. You can use bulk messaging to promote current offers on any high-value cosmetic treatment. Perhaps you're trying to push teeth whitening or tooth alignment treatments - use bulk messages to send out updates to your patients at times set by you and your team. Remain in control of your business with Dentally - maximising revenue and keeping your patients up to date with the cosmetic treatments that your practice offers.
Dentally understands that there will be times when a more personalised message is required. Rest assured that as well as bulk messaging, creating individual messages is quick and easy in our cloud-enabled software. Maybe you have a patient who has expressed interest in a high-value treatment that your practice offers. Follow up the discussion with a personalised message informing them of all relevant information regarding the treatment and how to go about booking.
Patients Report
To attract new clientele to your practice, especially those looking for cosmetic work, you will likely be engaging in some form of marketing. Marketing campaigns offer an excellent method to get your dental practice out to the general public and find new patients interested in the treatments you offer - proving you are the best practice for them.
Of course, like anything, these campaigns need to be measured and monitored to understand their effectiveness over time. After all, you're running the campaign to gain results, so you want to know they are performing how you expect. If not, perhaps a new marketing approach is needed.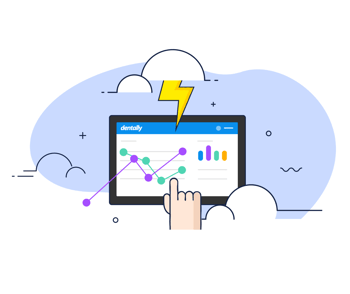 Dentally's Patients Report is a powerful tool that allows you to monitor every element of your practice - including any marketing campaigns you may be running. With the Patients Report, you can identify new patients by customising the search criteria in the filters - emulating the target audience within your marketing campaign. Read more about how to do so here.
Keeping track of your patients and marketing out to new potential cosmetic patients is made easy with Dentally's cloud-enabled practice management software. Saving you and your team time and always keeping patient care as the primary focus of your practice. Speak to the team today at hello@dentally.co to learn more about Dentally or if you are an existing customer, take a look at our support area here.