This December, our Friday blog series continues with our pre-festive focus on financial housekeeping for your practice and keeping track of your income. This week, we take a look at your reception team's role.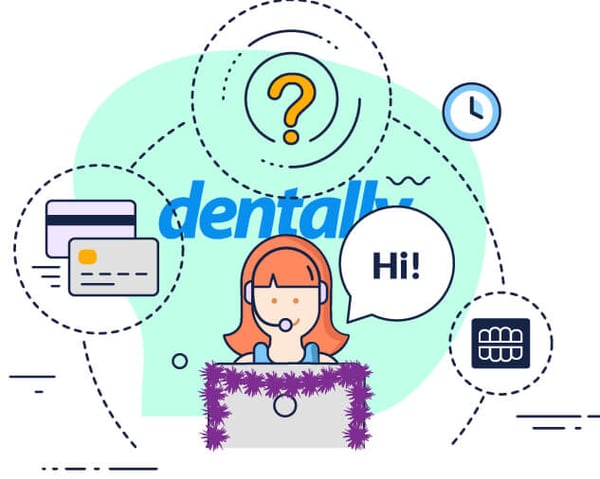 With Dentally it is all about ease of use and ensuring your team can access everything they need at their fingertips to respond to the patient's query. We understand that you want to give your patient the best possible experience from before they arrive until after they leave. Not only using tools like our self check in and online medical history, but also the completion and consent to any necessary paperwork and rapid payments on site or remotely. (You can find out more about our Reception tools online)
We are often asked a lot of questions around general invoicing from treatments to sundries, and the processes involved, managing your patient's financial journey in the practice. So let's look at that in more detail.
Patients will always have lots of financial related questions such as; Why is my invoice showing this amount? Please can I have a print out? I need a receipt for my insurance, I think I paid a deposit? Can I buy some TePe brushes and mouthwash? Can I please have a receipt for the deposit I paid online?
Invoicing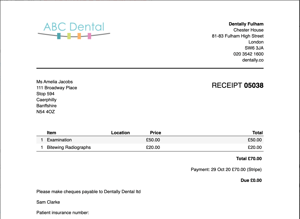 First, let's talk about the all important invoice. Producing an invoice with Dentally is simple. Once the Practitioner has completed the treatment, they can create an invoice by simply ticking the items they wish to charge for with a simple button click, then carry on writing up their notes while the patient goes to the desk. Read on.
An invoice is then generated and added to the patient's record account tab so once your patient returns to the reception area, your reception team can print or email this, and take the appropriate payment from the patient. Find out more. This can be completed either while the patient is on site or remotely through an online payment link. Receipts and statements of accounts are also simple to create in Dentally and can be emailed or printed directly from the patient's record. Learn more.
Sundries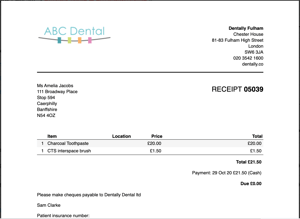 Sundry items can be charged in Dentally by adding the items directly to an invoice from the account tab in a patient's record. Read more. This means that reception users can record the transaction without having to add the items to a treatment plan. As well as adding sundry items from a pre-configured list, charges can be raised by manually entering a description and price. Dentally's invoicing system is fully flexible to meet your needs, including the ability for the reception team to add items to an existing invoice for a treatment plan or generate a new invoice.
Financial transactions can be seamless, providing your patients with a great experience and ensuring your practice income is up to date.
To learn more take a look at our Support area. Speak to our team today to learn more about Dentally can help you manage your dental practice accounts, email hello@dentally.co