As a dental practitioner, ensuring a seamless patient journey is essential, as is putting a system in place to guarantee the best treatment planning options are available. After all, an efficient practice makes for happy patients.
At Dentally, we want to make treatment planning as easy as possible. Ease of use exists at the core of our software. Producing time-saving workflows and admin help is a vital part of what we do - from easy to locate and read patient information, clinical notes and medical histories to correspondence. We have put processes in place to make the treatment plan cycle seamless, taking the stress out of daily practice life.
Patient Information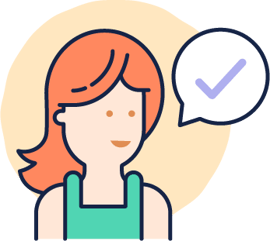 Dentally understands that you need to find your patients information quickly, especially when creating seamless patient journies. With our cloud-enabled practice management system, you can find all of the information you require regarding your patient at the tip of your fingers - in a secure patient record.
Of course, at times, you will need to communicate with your patients through recalls and reminders etc. You will need their details to be up to date to guarantee a smooth patient experience - which in turn will lead to loyal patients who return to your practice time after time. Dentally has made it easy for your reception team to check and change patient details. Patients who have access to our Patient Portal can also easily update and change their details - once again streamlining practice processes and saving you and your team valuable time, so you can focus on delivering the best patient care.
Booking appointments and taking phone calls involves ensuring you find the correct patient details. Dentally allows teams to search patients by name, D.O.B and phone number. You can easily differentiate between patients with similar names as relevant information shows in the search results, like age and address - use the information to confirm with a patient their identity.
Clinical notes
With Dentally, you can rest assured that clinical notes are straightforward to read. We understand that typing the same clinical notes multiple times throughout the day can become monotonous and time-consuming. That is why we have created clinical template notes.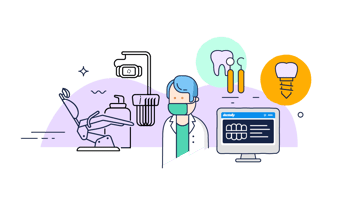 Template notes enable you to insert snippets of text into any clinical note. We do this in two ways. Firstly, you can either select the snippet you wish to insert from a drop-down menu. Alternatively, you can use a snippet shortcut. Type in the snippet shortcut, followed by a space and the snippet will automatically insert.
Template notes can be added by any user with administrator permission levels. Go to Settings, click templates and then select template notes to get started.
Medical histories
As a successful practice owner, collating an up to date medical history for a patient is a vital part of patient management for your business. You will need to guarantee that you have the correct patient details to provide the best patient care.
With Dentally, medical histories can be easily recorded and updated. To record a new medical history, go to Medical and click New Medical History in the patient's record.
Dentally allows a practitioner to add a follow-up question to each medical history question. That patient will then be able to click 'yes' or 'no' answers. If the patient answers yes, a free flow text box will appear - meaning they can provide more information within their response.
Read more about medical histories here.
Communication
When creating a seamless treatment plan for your patient, excellent communication is of great importance. We help simplify that process so that your patients have all the information they need. We help with follow-up appointments, recalls or vital treatments.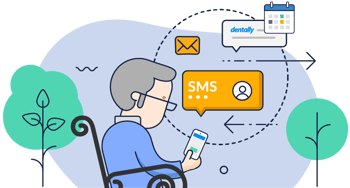 Whether your patients prefer SMS and emails, postal mail or telephone calls - Dentally has processes in place to ensure no patient is missed, regardless of their correspondence preferences. From our easy to use, hassle and expense saving Dentally Mail, quick outbound telephone calls and two-way patient SMS and emails - Dentally has a simple and easy method of communication for all.
We even offer correspondence templates as we know that amidst a busy working day practitioners do not have time to repeatedly create documents of similar substance multiple times. Our practice management software allows the practitioner to use a template that contains the details they may only wish to think about once. Templates are customisable to ensure they remain on brand and can be tailored to include practice logos and headed paper with specified fonts. Read more about seamless patient communications with Dentally here.
Creating a smooth treatment plan cycle with Dentally is easy. In fact, streamlining all of your practice workflows can be simplified using our cloud-enabled practice management software. Speak to our team today to find out more at hello@dentally.co or visit our product feature page here.