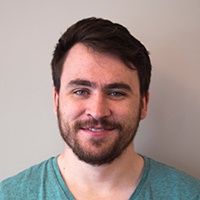 My name is Rob Gardner and I'm Dentally's latest hire. I'm an Account Manager so I'll be helping our clients out with training and I'm always here to answer any questions you have. I've moved here recently from Ireland so still getting to know London. If you have any tips or know some interesting spots please let me know!
Where were you before Dentally?
I graduated with a degree in computer science and have almost exclusively worked in startups. I started out in customer support and later moved to project management in a Telecom. I've also worked in digital marketing and brand management in the motor industry.
What was it about Dentally that attracted you?
I've always liked being part of a tight knit team and that strongly came across when I was interviewing for the role. I also like adapting and utilising my skills and in a startup you always perform a variety of roles outside of your main responsibilities.
What do you like to do outside of work?
I've played rugby for years and have joined a team since moving to London. I'm looking forward to the World Cup and I am hoping to get to a few games. I enjoy reading fantasy so you'll often see me with a Tolkien book in my hand. I also love camping and hiking so you'll often find me on a trail on the weekend.