At Dentally, we wanted to share our response the publication of The State of Dentistry 2019 report, with a promise of yet more innovation to help make dentists lives easier.
As you may know we recently commissioned a white paper survey to find out more about the state of dentistry in 2019 to help understand the views, challenges and mood of dental practice owners and practitioners. The research conducted over the last few months involved over 125 dental practitioners across the country (including users and non-users of Dentally), from experienced practice owners running established multi-site practices to new owners in the early years of growing their business.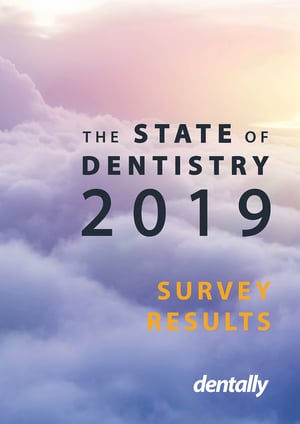 Amongst the many findings, one message was clear. A growing burden of administration on dental practices is draining their time, profitability and morale.

Most practice owners (82%) believe it is harder to make a good income out of dentistry than ever before. Three quarters (75%) are working more hours for the same income and 61% feel that dentistry is becoming a worse and less profitable profession over time.

The primary reason given for this was a greater burden on administrative duties causing a squeeze on income. 8 out of 10 feel they face more pressures on their time than they did in the past, with more business and administrative tasks to complete. In particular, NHS reporting, IT management and general administration mean that most Dental Practice Owners feel they are forced to spend more hours in the office than in the past.

If you have yet to download The White Paper: The State of Dentistry Report 2019, then why not take a look today, simply click here.

Our Commitment

From the outset as a team we have always shared a common vision: To make dentists lives easier. That narrative has never changed and is stronger than ever.

As a response to the results of the White Paper, we are making a commitment to using technology and innovation to help and support dentists over the coming 12 months and will continue to talk to our customers as to the best ways of tackling the issues:

We will help reduce the burden of NHS admin, through a review of a number of areas including:

Additional reporting and data filtering options to improve target tracking
Further validation of claims to help increase the number that are accepted.
Simplify the claims workflow.
Assist in reducing the general administrative burden. Development will include:
Increasing automation within our software
Automation of daily routine jobs.
Introduction of internal messaging
More reporting
Patient communications automation and workflows.
Payment links
Developing tasks lists.
Understanding the views, challenges, and mood of practice owners is vital to understanding the future of dentistry. They bear the commercial burden that allows new dentists to train and practise, and fund the training that upholds standards of excellence in the profession. Practice owners provide the foundations of the industry, creating jobs and driving investment and innovation. Their outlook informs their attitudes and behaviours which has a huge impact on the shape of the industry.
The results highlighted many challenges, but also offered genuine reasons for optimism. One thing is clear: dentistry is changing, and delivering high quality care for patients as well as improved morale among dentists relies on those within the industry adapting to these changes.
For us, a commitment to innovation is top of the agenda for the next 12 months and beyond, to explore all areas of how their cloud-based technology can help ease the burden by allowing dentists to work from anywhere and automate processes to save time.
To share your views and feedback on the survey, email: hello@dentally.co or if you would like to arrange demo please visit here: https://info.dentally.co/be-on-cloud-9