Over the last few weeks we have introduced you to just some of the members of the Dentally team that you will come across as part of the process of moving to our practice management software and for ongoing support to ensure you get the best out of the system for your dental practice.
There are of course lots of people working behind the scenes at the hub of our cloud based software, so this week are going to introduce you to just some of them.
So say hello to our developers who are our innovators - software development is written into their genes, you could say it's in their DNA! These problem solvers are the people who love to unpick a puzzle and challenge the norm - they have a common vision to take the stress out of practice admin and are constantly innovating new ways to make dentists' lives easier.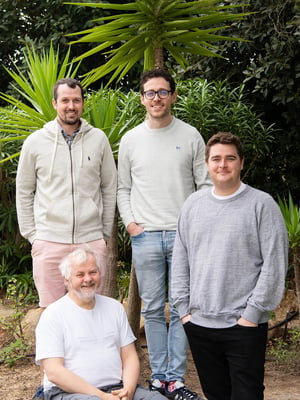 The development team is led by our CTO, James - he's passionate about using cloud technology to improve functionality and engineer new innovations. He has a team of four, including Colin, Ross and Francis who we talk to here…
Colin joined Dentally in 2017, having spent a lifetime working as a developer helping a number of companies, from the small guys to large businesses such as Go Outdoors and On the Beach. Solving problems is what Colin does, and he loves these puzzles especially if he can create an interface that helps us humans with all things digital! For Dentally, he works on both the customer facing element of the software, improving functionality and visually how things work/look, as well as being busy in what he calls the 'boiler room' making sure everything in the back end of the software is working at its optimum.
Next say hello to Ross, he's been at Dentally since 2014 having spent time travelling in America, University and Makers Academy. As part of the development team he is all about the data! Ross is a tool builder and uses these tools to migrate data across from other dental systems to Dentally. Working with the trainers to ensure that new customers have all elements of their previous data brought across, so their patient records are ready for use as soon as they switch to Dentally. Data migration is just one of his areas of expertise, he's also a wizard on the ski slopes and golf course!
Francis has been at Dentally for the past three years, writing software is his passion and he boasts more than 30 years of software development - so he knows a thing or two about code! You will never see Francis without a paper notebook and pen - and he is always writing!
If you would like to learn more about Dentally, and how we use cloud technology and innovation to make Dentists' lives easier, simply email us hello@dentally.co