Following valuable feedback from our customers, we have made some time saving and ease of use improvements to the way the Waiting Room functionality works within Dentally.
The waiting room module in Dentally is a core part of the software, allowing your reception team to mark patients as arrived for their appointments and advise the dental practitioner in surgery. However, we felt that there was more that this could do to reduce the admin and make the process more efficient.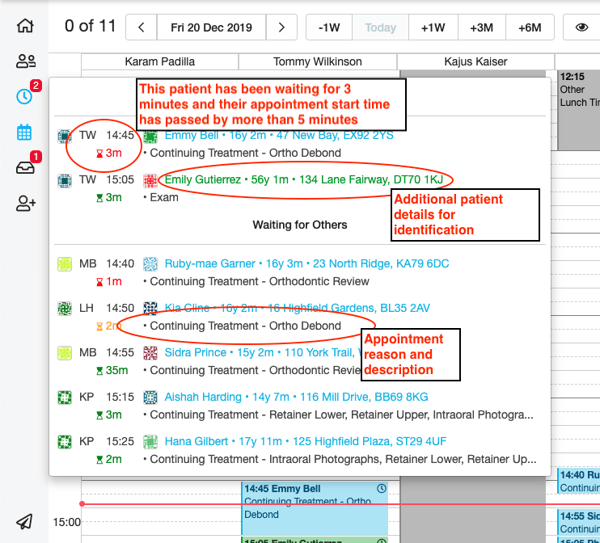 We have made a number of changes including:
Adding the patient age, first line of address and postcode to the screen - ensuring the reception team are identifying the correct patient quickly without the need for multiple clicks. This also helps to confirm the patient's identity upon arrival in surgery.
Adding the reason for an appointment and description - so the practitioner can quickly see why the patient is in surgery without referring to the notes.
We have introduced an easier way to see how many minutes a patient has been waiting through colour coding. The amount of time the patient has been waiting is still displayed, but the colour coding will now show if the patient's appointment should have started. Green means it is still before the patient's appointment start time, orange means it is less then five minutes after their appointment start time and red if it is more than five minutes after their start time.
Plus we have separated the waiting list, so it is easier to see who is waiting for you and who is waiting to see other clinicians in the practice.
If you would like more information on this, then please email us hello@dentally.co to talk to our team.
Remember over 6,000 dental professionals are already working smarter, working remotely and working securely with Dentally, so why not book your demo today.