Are you making the most out of your patient reviews? Reviews are a great way to stand out from other practices on Google and strengthen patient loyalty. Our partners, Working Feedback know this and want to help you make the right marketing decisions.
Working Feedback is offering an exclusive special offer to Dentally customers; a free set up fee (a saving of £300 ex VAT) available until 30th April 2021.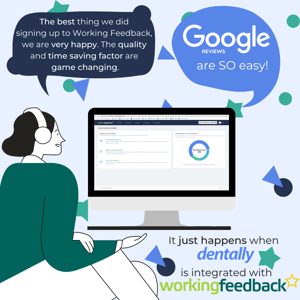 Working Feedback is a great way to turn your customers excellent experience into a strong review - meaning your practice stands out against others. It is a super smart solution for dental practices looking to automate the collection and sharing of reviews. The best part - it takes just seconds to set up! So you don't have to worry about wasting time in fact you'll save time further as Working Feedback automatically triggers a feedback request when the Dentally patient treatment record is updated as completed, based on the individual's preferred method of marketing communication.
With Working Feedback, building a solid reputation on Google has never been easier - you receive Google reviews directly as well as engaging and helping to convert your happy patients more effectively.
To see how Working Feedbacks tangible, cost effective solution and how it can help marketing, compliance and your practice growth watch the video below.
To give your practice the online reputation it deserves, visit the Working Feedback Website or call them on 0800 043 2100, and remember to quote: Dentally.