As a dental practitioner, your patient's safety along with delivering the best care is paramount to the success of your practice. A patient's journey doesn't just end once they have finished their appointment, instead, it continues to their departure, payments and rebooking of appointments - right up to the moment that they step back into the practice.
At Dentally we understand that for a dental practitioner time is limited and incredibly valuable. Our cloud-enabled practice management software allows you to utilise your time and deliver the best possible patient experience at every step.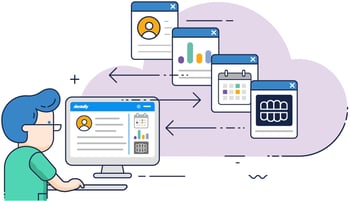 Contactless Payment Links
It is important to ensure that your patient's feel valued even after their appointment and this can put your practice strides ahead of competitors. Once you have said goodbye to your patient in surgery and they head to reception to pay for their treatment you can use Dentally to minimise patient and non-clinical staff physical contact. Rather than a member of your team having to directly take payment from the patient a secure SMS payment link can now be sent straight to the patient instead - keeping them and your team safe.
Payment links can be sent as soon as a patient has left the surgery or you can opt to send them in bulk periodically throughout the day. Whatever your preference you know that you are in control of your practice with Dentally.
Ease of use is at the heart of Dentally's ethos so you can rest assured that the set up of the feature is both simple and customisable to fit your practice branding with logos and details. The payment page can be used across all platforms - phone, iPad, laptops, whatever device your patient is using.
From the patient's perspective, they receive a secure link that allows for them to simply pay their bill by clicking that link which will redirect them to the payment page where they can use a credit/debit card or Apple pay etc. Once this is completed the payment will update directly on the patient's record in Dentally.
Automated Patient Communications
Dentally's correspondence methods can streamline your practice whilst keeping your patients up to date and improving their patient journey as a whole - even between appointments.
Understanding that your patients need updates even in the time between appointments allows for you to build strong patient relationships. When a patient departs, not contacting them again until their next visit to the surgery could leave your patients feeling out of the loop and unvalued.
Assist your patients in remaining loyal to your practice with Dentally's automated communications, your practice can set up regular contact with patients with minimal effort from you and your team.
With our easy to use automation tools, you can aid your patients in keeping and attending their appointments through reminders. In return, you receive an early warning of a patient's inability to attend - so you can fill in gaps in your diary with emergency appointments or waiting lists.
Tailoring communications
Templates enhance the simplicity of automating your patient correspondence with Dentally - ensuring consistent communications and brand look. Within Dentally you will find simple templates which can be used for setting up appointment reminders and confirmations. This can be done within eight simple clicks from Practice settings. You can even customise the text to keep it in tune with your brand persona.
As a busy practice, there will be scenarios when you need to send a message to multiple patients and Dentally assists you with this too. You just set up a bulk patient message, using filtered sections from Patients Report and templates, proofread and send them off. An easy, efficient way to guarantee your patients are up to date whilst saving you time.
We understand that keeping your patients up to date with practice services, opening hours and any other important patient information is beneficial to your practice. Utilise Dentally's automated marketing through each patient's selected preferred correspondence - so you know that your patients feel valued even when they are not in the surgery. Dentally does allow you to send individual messages too so you can always add a more personal touch when required.
Having a good relationship with your patients is key to running a successful practice. Don't let your patients feel abandoned once they've left the surgery. The time between appointments is just as important as the time patients spend in surgery. Contact us at hello@dentally.co to find out how we can help you streamline your practice and make your patients journey seamless at every step of their journey.
Your blog post content here…