Over the last few months, we have focussed our efforts on helping your practice better understand how Dentally can benefit each member of the team. From receptionists and practice managers to clinicians - we have covered the basics to demonstrate how leveraging the power of the cloud can help streamline practice processes, improve workflows and take the stress out of daily practice life.
This week marks the final week in our role-based series, so let us show you how Dentally helps practitioners efficiently handle NHS Scotland processes - simplifying them and ensuring all patients receive the best care at every level.
Dentally is dedicated to providing our Scottish clinicians with the perfect tool kit to manage practices efficiently. We continuously aim to provide the best cloud software to our customers. Not only does Dentally support workflows already in place, but we are officially approved with all regulation changes and reforms for NHS Scotland.
Claim Submission
In Scotland, all NHS Scotland claims require transmission to the Scottish board through eDental. Dentally have worked hard to ensure that this process is easy to carry out through our software. Practice managers, clinicians or whoever may be submitting the claims must hit submit, and they will receive a yes or no response within 10 seconds from NHS Scotland. That way, clinicians know they can confidently close the treatment or plan or add an amendment. Through this process, delays can be avoided, and all claims kept up to date, in order and handled efficiently.
Not only does the cloud help to streamline practice processes and workflows - but it also presents the perfect tool to respond to changes per patient needs without disrupting practice processes or server updates.
Prior approvals
Dentally is NHS Practitioner Services Divisions (PSD) e-Dental Programme Phase 2 reforms for NHS Scotland approved and compliant. As a modern software company, we understand the importance of keeping up to date with any significant changes that could impact our customers - making their lives easier through our cloud-based tool kit.
Prior approvals must be sent off by a clinician or practice manager to the PSD, who will send a link for the user. The user must then upload any supporting evidence that the PSD has requested. Dentally makes this process as easy as possible by allowing for the submission of digital photos and radiographs to be run directly from the software itself. Ease of use is at the heart of all that we do, so the link is designed to work in a way that allows dentists or practice managers to manage the PSD processes in the most simplified of ways.
Dentally understands that not all treatment items qualify towards the final approval amount, so we have not made it a necessity to submit a prior approval - ensuring our software is as flexible as your practice. Instead, we have decided to notify the user when the total is nearing the limit or when it needs prior approval - this is because we understand how complex the process of calculating treatment amounts can be, and aim to take the stress out of mandatory tasks. Practitioners can decide themselves what requires completion.
To read about prior approvals in more detail take a look at our blog post.
Reporting
Reports in Dentally make keeping on top of and managing NHS Scotland easier - reducing stress and freeing up time for hands-on patient care. We have created several reports designed to target NHS Scotland in particular.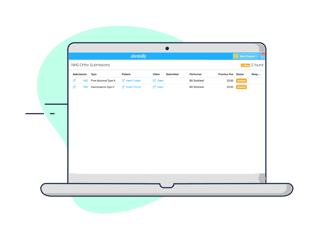 The Prior Approvals report in Dentally exists to monitor the progress of prior approvals, so dentists and practice managers know what stage each patient's care is at and can schedule appointments and treatments accordingly.
The Daybook is specifically targeted at Scotland customers - designed to calculate NHS income per dental practitioner within a particular date range. As well as this, it also provides a breakdown and summary of any private treatment fees, not just those of NHS Scotland. Because of this, work completed by dentists can be individually monitored, fees owed calculated, and treatment types reviewed.
The Treatment Plan is designed with all Dentally customers in mind and allows practice managers and clinicians to view all treatments for a specified date range. Practice Managers can track paid treatment plans per patient and can send claims for any outstanding ones. Any Scottish NHS work that has not been claimed can also be reviewed by dentists - keeping on top of claims, finances and streamlining practice processes. Open courses of treatment at any stage and those that have been accidentally closed without submitting a claim can be viewed - once again keeping the practice organised.
Dentally understands that practices are diverse, practitioners are busy, and every team member needs to feel supported by their practice management software. That is why we dedicate our time to bettering our cloud-enabled software to continue to deliver the best tool kit to our customers. Speak to the team today at hello@dentally.co to start your streamlined journey, and leverage the power of the cloud.