Throughout the last few months, we have examined individual roles within your practice and how Dentally can help the lives of every one of your team members to become stress-free and more efficient. From automated workflows for reception teams to easy reporting and finance tracking for practice managers. Your team can be confident that their daily job duties are made easier with Dentally's easy to use cloud-enabled practice management system.
This week sees our clinician focus month shift its attention to charting. At the heart of Dentally's ethos lies ease of use - charting is no exception. We have worked hard to make charting in Dentally easy to understand and even easier to implement into daily practice life. We know that each clinician will work in a different way to the next that is why charting in Dentally is customisable and easy to tailor to an individual's needs - let's explore some of the ways we achieve this and how, if you prefer, you can switch between customisable charting and general charting.
General Charting
As mentioned charting in Dentally is customisable to suit your individual needs as a clinician. After all, no two practitioners are the same, and each will have preferred methods of working. Dentally constantly strives to be as flexible as your practice - this includes the working methods of clinicians and other team members that work in it.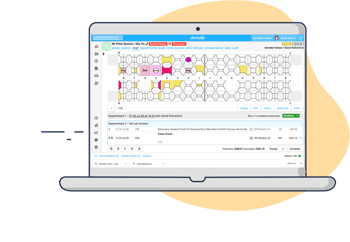 The most frequently used treatments will be placed in an easy to spot location - this is thanks to our clever hover charting, an added addition to our easy to use customisable services, charting that pays attention to your clinician's work and learns their treatment preferences. If any clinicians would rather remain fully in control, they can instead opt to create their favourite treatment list from which they can quickly select and apply any treatments to the chart - working around them the way they want.
Hover Charting
As a clinician in a busy dental practice, time is a commodity. Our charting is made with this in mind - built to be quick, easy and, simple to use and understand. Locked charting allows for notations to remain constantly visible and can be disabled at any time so that detailed treatment notes can be written, documented and saved. Keeping flexibility as the centre of all that we do - tailor your charting to suit you.
Clinicians know the importance of communication with their patients - ensuring that each patient feels informed is vital in creating a comfortable environment that gives them the confidence to return to the practice time after time. Dentally knows this too - that is why we have made our treatment plans easy to break down by appointment. Courses of treatment are easy to plan, and the creation of estimates can be carried out on the same screen, and digitally signed by the patient on the patient portal and iPad app- creating a chairside tool of reassurance for your more nervous patients.
Dentally's default chart when opening a record will clearly show the base chart and open course and all of the previous complete and incomplete work and, it is all just a click away in a concise history section.
Charting choices
Although treatments are usually charted directly onto the treatment line, there will exist occasions when perhaps a patient comes to a clinician who has already had treatment carried out elsewhere - with Dentally - you can chart that treatment directly onto the base chart. That way, you can fully understand your patient's dental history, both past and present.
With Dentally, you have the choice of opting for separate treatment and baselines. This option means you can easily see the current base charts and proposed work shown on separate lines. Alternatively, you can opt for the 'Condensed charting' view where the treatments are placed straight onto the base chart - changing colour to indicate when they are complete.
Seamless linking
Charting and treatments come hand in hand - it is for this reason, Dentally has made it easy to view both on one screen through the charting tab.
From the charting screen, clinicians can view all treatment notes, from past to present. As well as being able to access BPE, BEWEs, x-rays and dental images- together, creating a time saving and efficiency-enhancing tool to contribute to the seamless and stress-free running of your practice.
NHS claims are also submittable from the charting screen, providing a quick submission workflow as you finish your notes, all from the chart screen with no need for a separate admin task to find and batch all the NHS work at the end of the day.
Dentally understand that to run a successful dental practice an easy to use practice management system is required in order to enhance patient experiences and retain team members. That is why our cloud-enabled software provides the ultimate tool kit to help your practice staff complete their day to day tasks with ease and without stress. Talk to the team today to find out more about the ways in which Dentally can benefit your practice at hello@dentally.co